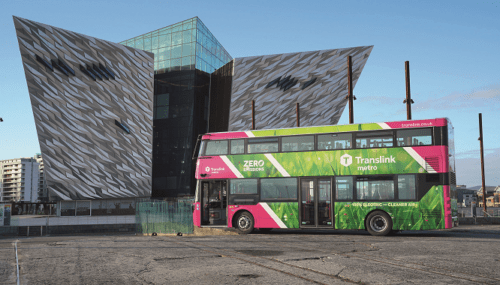 Northern Ireland's Translink was among the many operators celebrating Clean Air Day by promoting their zero-emission fleets
Investment in zero-emission bus technology in Northern Ireland is making real progress, addressing the climate emergency and delivering a cleaner region says operator Translink. Last year, its Metro buses in Belfast completed over 1.5 million miles of emissions-free travel, removing 1,635 tonnes of CO2 from the atmosphere, supporting its target to operate a net zero fleet across Northern Ireland by 2040, the operator reported as part of the seventh annual Clean Air Day on 15 June.
Translink has more than 100 zero-emission buses in its fleet with plans for another 44 to enter service this year, including a bus renewal project for Foyle Metro services in Derry~Londonderry, and Coleraine will also start to see new zero-emission buses added to its local bus fleet later this year.
Translink CEO Chris Conway said: "Investment in zero-emission fleet & technology, along with modal shift, is vital to tackle the climate crisis and achieve the emission reduction targets set out in the NI Climate Change Act. Over five million emissions-free bus passenger journeys were made on Metro last year, cutting congestion on local roads while reducing noise and air pollution across Belfast. Our customers are also enjoying the comfort of these state-of-the-art vehicles that meet the latest standards in accessibility and safety.
"Translink remains committed to delivering attractive, modern, fully accessible and greener services supporting a cleaner region and a better quality of life for generations to come. We look forward to further investment in zero emission public transport in the years ahead."