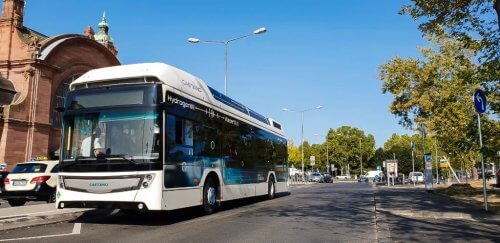 After winning contracts for the supply of four hydrogen buses to Bielefeld's transport company and two more to the eFarm Project in Germany, Wiesbaden operator ESWE Verkehr has also chosen Caetano to deliver 10 hydrogen buses in the last quarter of 2021.
The 12-metre hydrogen vehicles will be operated by ESWE Verkehr in Wiesbaden on local routes 16 and 17.
"As part of the tender for 10 fuel cell buses for Wiesbaden, we had the opportunity to test an H2.CityGold from Caetano for three days during the award procedure. Overall, we were able to rate the mastering of the topography in our route network, driving tests at our driving school, an assessment of the technical configuration and its processing as positive. After evaluating the award criteria, the 10 H2.CityGolds have been ordered and we are looking forward to being able to integrate the vehicles into our fleet at the end of 2021," said Dietmar Schneider, Head of the Technical Operations and Infrastructure Divison at ESWE Verkehr.
The buses will be equipped with a Toyota fuel cell, a 44kWh battery pack and Siemens motor with 180kW peak power, and will have a total storage capacity of 37.5kg giving a claimed range of over 400 kilometres.
"We are extremely pleased to have had the opportunity to supply our hydrogen buses to Wiesbaden, and to be able to be part of their zero-emission transport development process," said Patricia Vasconcelos, CEO at CaetanoBus.