Work has also begun on a Park & Ride facility for the Bradley Lane West Midlands Metro tram stop
More than £10m has been earmarked to expand Park & Ride sites at several rail and tram stations in the West Midlands, in a bid to benefit commuters, the economy and improve air quality.
The Bradley Lane Park & Ride scheme will provide 196 spaces and is due to open this summer. The start of construction follows several weeks of preparation and exploratory work due to former coal mines under the site.
Transport for West Midlands (TfWM) has already invested around £17m into providing more than 8,500 car parking spaces at 38 rail stations and three Metro stops over the last two decades.
With congestion costing the West Midlands economy more than £2bn a year, the Park & Ride facilities have bolstered the transport authority's wider efforts to reduce the number of cars on local roads and improve air quality.
The plans come as Mayor of the West Midlands Andy Street and Cllr Mike Bird, leader of Walsall Council, marked the official start of work on a new £2.6m Park & Ride facility for the West Midlands Metro tram stop at Bradley Lane which currently has no on-site parking.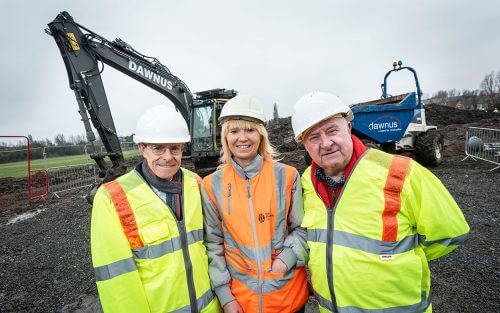 Planning permission has now been approved for Park & Ride expansion schemes at Longbridge rail station, including plans for a decked car park, and at Tipton station which could see its 71-space capacity nearly double.
TfWM is also working with Coventry City Council on adding capacity to the existing 330 spaces at Tile Hill.
Transport chiefs expect to see the schemes carried out over the next four or five years with money coming from a variety of sources including the West Midlands Combined Authority's (WMCA) HS2 Connectivity Fund and Capital Programme.
Subject to further funding being found on top of the £10m, a number of other sites are also being looked at in close liaison with local councils for expansion.
These include Dudley Port, Sandwell and Dudley and Tame Bridge Parkway. TfWM is also working closely with Solihull Council on plans to increase capacity and improve accessibility.
For more news click here:http://cbwmagazine.com/category/news/