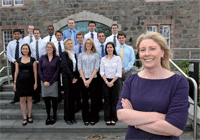 16 successful graduate recruits selected from 750 applicants
FirstGroup has taken on a record breaking 16 recruits for its graduate scheme this year, having attracted 750 applicants.
The graduates were set an unusual challenge to begin their time with the company – having to travel from their homes to FirstGroup's headquarters in Aberdeen using only FirstGroup services.
With the graduates living across the UK, from Glasgow, to locations as distant as Plymouth, they set off from their homes on Monday morning (September 5) and in some cases Sunday evening with an aim to arrive in the city by 1800hrs.
FirstGroup's head of learning and development Linda Guthrie explained: "We asked them to plan their journeys in advance and critically evaluate each leg. They were all successful and arrived in Aberdeen on time."
Following their arrival, the new recruits spent the remainder of the week in Aberdeen learning about FirstGroup, and took part in 'Apprentice' and 'Dragon's Den'- style activities to help teamwork and confidence.
One of the successful applicants, Tetanya Nedilko, 25, from Islington in London, said: "I have always strived to work for a successful international organisation with a a strong engineering focus. I'm thrilled to get this opportunity with FirstGroup and hope to progress with the company and become a fully qualified Chartered Engineer. I'm looking forward to getting my hands dirty!"
The graduates' week in Aberdeen is the beginning of a comprehensive workplace training schedule over two years, at various locations across First's UK operations and within various functions in Bus and Rail divisions.