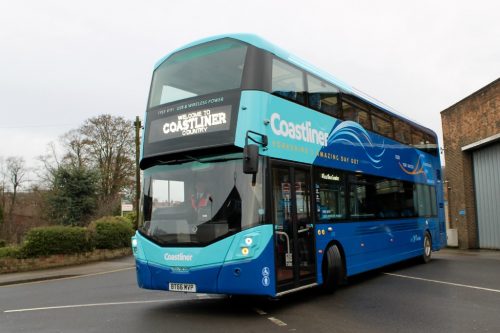 Transdev Blazefield makes further investment in another key Yorkshire route
Transdev has invested £2.34m in 10 Wrightbus Gemini 3-bodied Volvo B5TLs for Coastliner in Yorkshire. The first two buses have been unveiled outside York Minster and entry into service of all 10 is expected to progress during December. Nine 08-registered Wrightbus-bodied Volvo B7TLs displaced are leaving the fleet.
The 69-seaters, which replace older Wrightbus-bodied Volvos that are 616kg heavier, feature tinted double-glazed side windows and 'skylight' roof panels. A two-level luggage rack has been specified above the nearside wheelarch and dual colour wood effect flooring has been used throughout. LED lighting includes illumination under the seats and on the stairs. The CCTV system is 14-camera.
Isri Ega seats with leather headrests and inserts are on the upper deck and 'soft top' leather headrest-configured Isri Civic v3s in the lower saloon where there are no rear facing seats, rather workbenches in similar style to the route 36 buses launched earlier this year. Two tables in the upper saloon have sets of four seats grouped around them. Four rather than five seats are across the rear of both decks.
As well as free 4G WiFi every seat has a USB port and for the first time on Transdev buses in Yorkshire, passengers have a choice at the tables between using wireless phone charging pads and standard 13amp power sockets with integrated USB points. Next-stop audio announcements and scrolling displays are on both decks and there are 'countdown' McKenna Brothers destination displays that tell passengers exactly when their bus is due to leave at bus stations.
Best Impressions designed the external livery which includes a different scene from the route on the rear of each vehicle and the decoration extends to the interior as well. The winter PVR for Malton-based Coastliner is 14 vehicles, 16 in the summer. Transdev Blazefield CEO Alex Hornby told CBW that the plan was to invest in another five buses for the route next year. Additional capacity will come from two buses that will carry a new generic Transdev livery. Alex explained that the company is keen to introduce a standard approach to spare vehicles and the look that they will be given is part of that.
Coastliner drivers helped launch the new buses at York Minster. A team of 70 includes part-time and seasonal staff. All have gone through 'team talk' training where the company sets out its plans for the route and listened to employee feedback. Name badges are being introduced for drivers as well as Coastliner ties.
Helping to build brand loyalty, all of the drivers participated in a competition. The three winners were flown to the Wrightbus factory in Ballymena where they were given a VIP tour so that they could see the new buses in build, all helping to enhance brand loyalty.
Talking about CityZap which Transdev introduced earlier this year between Leeds and York to provide a faster journey alternative to Coastliner between the two cities, Alex said that he was pleased with customer growth. Both products were working well with each other and that had given Transdev the confidence to make the current investment in Coastliner.
"This year we've spent 8.2m on 52 new buses for Blazefield which has a fleet of 380," he said. "The plan is to make a similar level of investment in 2017."
Commenting on the Coastliner vehicles he said: "Every aspect of the new buses' design is inspired by valued feedback from our customers. We examined every detail of the journey from the moment a passenger steps on board to the very end of their journey with us – and the features which these buses bring to life added up to a revolution in comfort, style and convenience for each and every journey with us."