As we move into the second half of 2022, North of England bus operator Transdev says it is looking forward to building further on its successful programme to encourage diversity and inclusion among its 3,000-strong team in Yorkshire, Lancashire and Greater Manchester.
The year began for the operator with the launch of a specially designed double-decker decorated with the national flags of Transdev's 1,400-strong team in Yorkshire, Lancashire and Greater Manchester. The bus features the flags of 40 nations from every continent on Earth, including countries as far afield as Nigeria, China, Ecuador and Slovakia, each one highlighting the diverse nature of Transdev's team. Its introduction marked the start of Transdev's high profile campaign to recruit more new drivers, engineers and support staff from all backgrounds.
Transdev CEO Alex Hornby commented: "We're proud to have 40 countries represented by our 1,400 colleagues across the North – especially at a time when the whole transport sector is responding to a national employee shortfall. We're welcoming and training record numbers of new drivers right now, and we're on the lookout for more. We offer an industry-leading benefits package to newcomers joining our team, including a £1,000 welcome bonus for qualified drivers, free travel on all our buses and most others across the North, generous health and welfare discounts and rewards for our best performers.
"We also encourage our people on the road to career success through our 'Step Up' talent development programme. Our annual Amazing Awards celebrated the talents of our diverse team, in the company of world heavyweight boxing champion Frank Bruno MBE. Our people come from a wide variety of backgrounds, and they all have one thing in common – they all care passionately about giving amazing customer service."
Alex's positive approach to ensuring Transdev's teams continue to represent the communities they serve is mirrored by the operator's Training Manager, Dale French. Dale added: "It's really rewarding to lead the training at The Academy, our recently refurbished and expanded in-house training facility – especially knowing that I am welcoming new starters into a company that's inclusive and open to everyone."
International Women's Day took place in the UK on 8 March, with this year's event campaigning to #BreakTheBias – and looking to a future based on gender equality. That's a mission Transdev's York and Country bus driver Sally Coultas supports: "I've enjoyed working for Transdev over the last three years – I feel respected and welcome within the team. We need more women to join our little family," she said.
Tammy Hoyle, who works at The Academy training tomorrow's drivers for life on the road, is clear about how far women have already come on the journey to equality. Tammy said: "I think Emmeline Pankhurst would be bursting with pride at how far women have come today! It used to be unusual to see a female bus driver, but not any more – and especially not here at Transdev."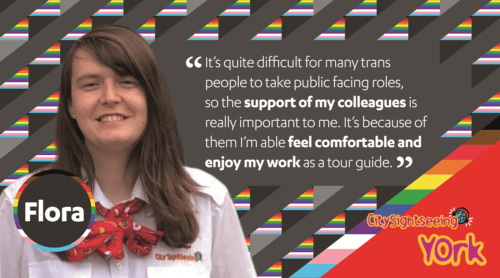 This June, Transdev has supported Pride events throughout its operating area. One of its City Sightseeing York open-top buses led a parade through York for the city's Pride Festival on 18 June. The tour operation is now into its peak season with departures every 15 minutes on a circular route linking all the major sights and attractions. Flora Jackson is one of the on-board guides who bring York's story to life – and is a popular member of the City Sightseeing York team. Flora commented: "It's quite difficult for many trans people to take public facing roles, so the support of my colleagues is really important to me. It's because of them I'm able to feel comfortable and enjoy my work as a tour guide."
And as Transdev continues to respond to the ongoing recruitment challenges facing the whole UK bus industry, Training Manager Dale French says the company's diverse workforce shows people from all backgrounds can have what it takes to succeed: "We're welcoming people from all walks of life to join us, attracted by our industry-leading incentives package including a £1,000 joining bonus, boosted pay rates for new starters and free travel across the North. Already this year, we've welcomed librarians, mortgage advisors, delivery drivers and a bowling alley manager to our team. Driving a bus is a skill that we can teach like any other – what really counts is good communication and customer service skills."