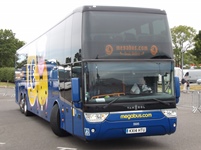 New legislation accelerates growth of the coach operator, with a further 10 new coaches acquired
Megabus.com has announced that it is doubling the number of its employees in France as the company launches a new wave of expansion at its growing inter-city coach network in the country.
One month after the market was liberalised by the French government, megabus.com has revealed it is launching 17 new domestic journey options for customers, including its first services from Marseille and Toulon, from September 30.
To support the latest expansion, a €2.7million fleet of 10 new coaches will operate the new services and the number of employees at megabus.com's base near Lyon will double to more than 75.
Megabus.com now offers a total of 27 domestic journey pairings in France, covering 13 locations.
By the beginning of 2016, megabus.com expects to have a fleet of 35 vehicles based in France offering more than 50 journey options across the country..
From 30 September, domestic travel will be available between the following locations:
Paris – Lyon; Lille – Lyon; Paris – Limoges; Paris – Brive-la-Gaillarde; Amiens – Limoges; Amiens – Brive-la-Gaillarde; Amiens – Toulouse; Limoges – Toulouse; Brive-la-Gaillarde – Toulouse; Paris – Lille; Paris – Toulon; Paris – Marseille; Paris – Avignon; Marseille – Lyon; Marseille – Avignon; Toulon – Avignon and Toulon – Lyon.
New legislation agreed over the summer means that people in France can travel more freely by coach between cities in France. The new 'Macron Law' allows operators to offer domestic services on any routes that are over 100km, including journeys that are part of existing international routes.
Megabus.com Managing Director Edward Hodgson said: "The French Government has taken a forward-looking decision to open up the market and these new journeys are further evidence that this change in the law is already benefitting consumers in France by delivering improved connectivity, great value travel and by creating jobs.
"We are well placed to help the government meet its objectives to grow what is a key sector of the economy.
"We believe our services will help grow the overall public transport network in France by complimenting the existing travel options. In the UK we have seen a large rise in passenger numbers in both the rail and coach sectors since the liberalisation of the market, proving that both modes of transport can co-exist successfully.
"We look forward to welcoming customers on to our new domestic network in France and have plans to expand our operations further in the future to benefit even more people across the country."