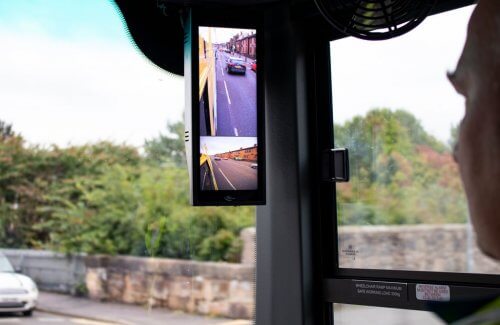 21st Century has announced that it has fitted the first bus in the Transport for London (TfL) area with its SmartVision Camera Monitoring System (CMS). The Metroline ADL vehicle has been fitted with the camera system which replaces wing mirrors for improved safety.
The technology improves visibility in all conditions, reduces the risk of accidents and lowers lifetime running costs of the vehicle. It also removes blind spots which enables drivers to look 'over their shoulder' while still looking at the road.
Onboard software automatically adjusts to reduce glare from direct sunlight and headlamps, improves visibility at night without any enhancements and shows clear images in the wettest conditions. The software also enables the driver to see clearly, allowing cameras to adapt to raindrops or dirt.
The vehicle is fitted with SmartVision cameras on both front flanks of the bus and the monitors are positioned ergonomically inside the cab on either side of the driver.
Ian Foster, Group Engineering Director for Comfort DelGro Operations in UK & Ireland commented: "Removal of exterior mirrors has been an aspiration of Metroline for several years, and the performance of the system has exceeded our expectations. The vehicle is currently being demonstrated around various London depots as part of the TfL Vision Zero project, and the feedback has been positive from all involved. Whilst the system is only approved on new build vehicles at this time, I fully expect retrofit versions to be approved for installation in the near future, especially when the safety benefits are realised."
Due to the cameras being much smaller than traditional wing mirrors, the SmartVision CMS reduces drag and improves fuel efficiency. The system also greatly reduces the risk of collisions with other road users, pedestrians, street furniture and trees.
Russ Singleton, 21st Century's Chief Executive Officer, commented: "We are very proud to be the first to fit a CMS in the Transport for London (TfL) area. It is an important step towards TfL's Vision Zero commitment to eliminate death and serious injury involving buses. By 2021, CMS will be compulsory on all TfL vehicles, but operators like Metroline are taking steps now to make their vehicles safer for passengers, the public and drivers alike."