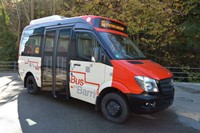 SPAIN Arbúcies, Girona-based Indcar has delivered six Mercedes-Benz Sprinter 516-based Stradas to TMB (Transports Metropolitans de Barcelona), the main public transport operator in Barcelona. TMB consists of two separate companies, Ferrocarril Metropolità de Barcelona ??SA and Transports de Barcelona ??SA.
The Euro 6 Stradas, specially adapted to the operator's requirements, have six seats and space for 16 standees. Up to three wheelchair users can be carried and they have electric wheelchair entrance ramps as well as being equipped with USB ports and other customer friendly features.
With a length of 7.345m Strada is a versatile product from Indcar that can seat 16 to 22 seats depending on the size of the rear boot. It's available in discretionary, urban, intercity and school ranges. The manufacturer was founded in 1888 by Francusco Queralt Roca in Arbúcies. It specialises in the manufacture of minibus bodies and van conversions.