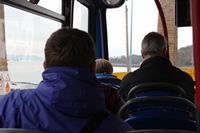 Report finds that 41% of passengers have high trust for their bus operators, though there is clear room for improvement
Transport Focus has published a report into how much trust passengers place in their bus operators and how to get more people to choose to travel by bus.
The report was published as a result of the potential changes to how bus services are provided outside London in the future, with the independent watchdog wanting to ensure passengers were kept at the heart of all changes.
Transport Focus asked over 4,500 bus passengers in England (outside London) what they most wanted to see improved, and about their relationship with their bus company. The organisation also asked 2,400 less frequent and non-users users of bus services why they did not travel more by bus and what might make them do so.
The report found that to improve passengers' trust in the bus industry, bus companies need to get the basics of a bus service right and build better relationships with their passengers.
David Sidebottom, Passenger Director at the independent watchdog Transport Focus, said: "Passengers want a reliable, frequent bus service that is value for money.
"Bus companies need to do more than just sell tickets. Passengers are more likely to trust their bus company if they feel their custom is valued."
Key findings from the report include:
41% of bus passengers trust their company highly, but being treated more like a valued customer would greatly increase trust;
Value for money is passengers' highest priority for improvement, followed by reliability and punctuality. Tackling anti-social behaviour was rated as passengers' fifth priority; and
28% of non-users would consider making more journeys by bus, highlighting the opportunity for further growth in the industry.
The report also stated that unlocking the potential of the driver as the face of the company presents huge opportunity for increasing passenger trust. It also said that a clear sense of who is in charge and where complaints should be directed is needed to improve passengers feeling like a valued customer, with passengers often having little understanding of who actually runs the buses.
Levels of high trust varied, with a difference amongst the five largest bus groups. Go-ahead received the best reaction with 47% of its passengers trusting the company highly (though it did have a relatively small sample size of 174 passengers), with Arriva at 42%, National Express and Stagecoach at 39% and First at 32%.
The report will be debated alongside the annual Bus Passenger Survey at the upcoming Transport Focus event, 'Is bus the missing link in delivering a northern powerhouse?' which is being held in Manchester on March 16, 2016.
Claire Haigh, Chief Executive of Greener Journeys, commented: "Buses deliver huge social, environmental and economic benefits.
"Traffic congestion costs the UK at least £11bn per year, and buses can, and must, be part of the solution.
"Greener Journeys will be encouraging bus operators, local transport authorities and central Government to take note of these important findings to help deliver modal shift from car to bus."
INFO
View the full report at https://www.transportfocus.org.uk/research/publications/bus-passengers-have-their-say