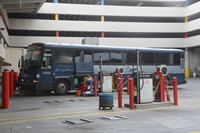 USA Greyhound, the largest provider of intercity coaches in North America, has unveiled a new mobile app following the recent launch of the company's newly designed website. The enhanced mobile app allows smartphone users to easily and conveniently search schedules, book trips, find terminal locations, access Road Rewards and track the real-time location of their bus with BusTracker. Apple iOS and Android users can download the free app from iTunes and the Google Play stores to begin booking their travel today.
"The new Greyhound mobile app features a modern, sleek and user-friendly design that allows customers to better manage their travel right from the palm of their hand," said Andy Kaplinsky, Chief Commercial Officer, Greyhound Lines, Inc. "Many consumers manage their daily lives from their smartphones, whether it's to search the latest news and information, purchase goods and services or stay connected with friends and family. We want to meet our customers where they are and provide them with a stellar travel experience that begins as soon as they access the mobile app."
Continuing its commitment of providing a convenient, hassle-free travel experience, Greyhound makes booking trips seamless with the mobile app. Customers can see the best deals across multiple days, allowing for flexible booking. When a customer books a ticket using the app, they are sent a confirmation number via email that they can use to print the ticket at home. Customers can also use a confirmation number and last name to add trips booked through other sales channels and keep track of future trips in the "My Trips" screen.
With spring approaching, customers can use the new mobile app to effortlessly book their spring vacations with Greyhound and feel confident that they'll travel safely, comfortably and affordably on a modern bus with premium amenities, such as free Wi-Fi, power outlets, reclining leather seats and extra legroom.