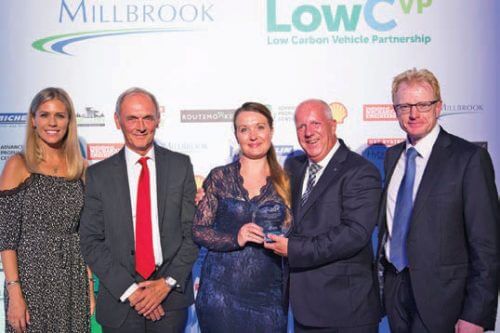 Along with joint winners of 'Grand Prix' award, First Bus and Scania also receive accolades at 2016 Low Carbon Champion awards, with Sir Peter Hendy named outstanding individual
The Low Carbon Vehicle Partnership (LowCVP) has announced the 2016 Low Carbon Champions in association with the Cenex Low Carbon Vehicle Event 2016.
The event took place in Milton Meynes at the Double Tree by Hilton, within MK Dons' Stadium.
H2 Aberdeen – which has developed a strategy for the introduction hydrogen-powered transport to the Scottish city – and Argent Energy – which has developed a drop?in diesel replacement for cars, buses and trucks – were jointly presented with the highest accolade; the 'Grand Prix', or winner of winners, Award.
Sir Peter Hendy was recognised as the 2016 winner of the Outstanding Individual in Promoting Low Carbon Transport.
Other award wins included:
Low Carbon Heavy Duty Vehicle Manufacturer of the Year: Scania GB. The judges were impressed with the commercial focus Scania has taken in delivering lower carbon trucks and buses into real world operations whilst also developing innovative longer-term options for trials across a wide range of markets;
Low Carbon Vehicle Operator of the Year: First Bus. First Bus demonstrated innovation by creating a Millbrook Fuel Economy Test for bus manufacturers as part of its bus procurement strategy.
As well as the top accolade, Argent Energy won the award for Low Carbon Fuel Initiative of the Year, while H2 Aberdeen won Low Carbon Road Transport Initiative of the Year.
The Aberdeen Hydrogen Bus Project – H2 Aberdeen – has introduced Europe's largest fleet of hydrogen fuel cell buses. The project has delivered the UK's largest hydrogen production and bus refuelling station. The bus companies said that the vehicles are proving to be extremely efficient compared to their diesel equivalents.
Argent Energy manufactures 60 million litres of biodiesel from waste each year. In 2015 Argent supplied high bio?blend diesel to two major London bus companies. After a year of supplying these companies, the greenhouse gas emission savings will be equivalent to 150 million miles of carbon-free travel, based on DfT figures.
LowCVP Managing Director, Andy Eastlake, said: "All the entries short-listed for the Champions Awards deserve recognition for the contribution they are making to cutting carbon emissions from road transport.
"There is a lot of work still to be done to achieve the long-term objectives set under the Climate Change Act, but the dynamism and determination shown by so many of those involved today shows how UK industry and operators have the drive and potential to achieve them."
Giles Fearnley, First UK Bus MD, commented: "This award reflects the hard work and huge talent of the First Bus engineering and procurement teams, and our successful partnerships with vehicle manufacturers."
Scania GB Managing Director, Claes Jacobsson, said: "Our dedicated gas-powered trucks and buses are capable of reducing carbon dioxide emissions by up to 90 percent when running on biogas, which represents a major contribution to the decarbonisation of heavy commercial vehicles."