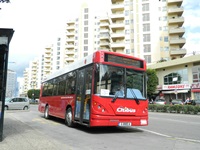 AUSTRALIA A brand new bus-only bridge will result in more frequent and efficient bus services in and out of Perth's Central Business District (CBD), the Western Australian (WA) Government has announced.
The aim is to get buses into and out of the city faster, ease congestion on arterial road corridors approaching the CBD and provide extra public transport services for major corridors in the northern suburbs. WA Transport Minister Dean Nalder said the $32m bus-only bridge will provide travel time savings of up to six minutes across 12 bus routes every week day for about 16,000 bus passengers.
"This is a great congestion beater for our city, it's better for motorists and bus users," he said. "For motorists, it means 1,000 fewer buses on this key road corridor a day, clearing the way for smoother traffic."
The new 110m bridge will enable buses from Perth's northern and north-western suburbs to bypass four sets of traffic lights in Northbridge and relieve congestion through Fitzgerald Street, which is a primary northern entry to the Perth CBD. According to Australasian Bus & Coach magazine, construction on this bus priority measure will start in early next year, and should be complete by early 2017.
Once the bridge is complete, high-frequency bus services on major corridors such as Alexander Drive will be rolled out. New services along Alexander Drive will be similar to route 950, which currently runs every three to four minutes from Morley and every one to two minutes from the city to The University of Western Australia.
"The time saved by buses no longer being stuck in traffic means eight buses can be allocated to other routes on the Transperth system during the peak period," Dean added.