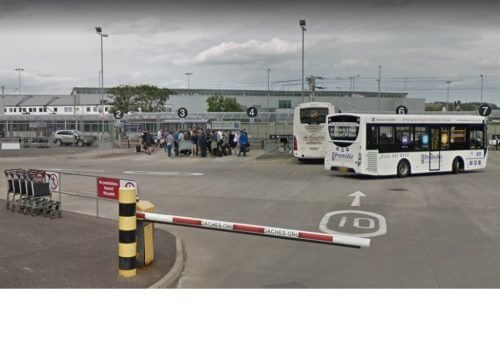 Move criticised by CPT Scotland and coach drivers
Edinburgh Airport has increased drop-off and pick-up charges for coaches by up to 40%.
Effective from January 1, the revised charges have led to widespread criticism from coach drivers, many of whom are unimpressed with the lack of notice given by the organisation.
The airport made a similar, highly controversial move in February of 2017, then raising prices by up to 80% and altering the timebands, as reported CBW at the time.
Paul White, Communications Manager for the Confederation of Passenger Transport UK – Scotland (CPT UK), expressed his frustration to CBW: "CPT Scotland met with Edinburgh Airport in December to make it clear that it was unacceptable for the airport to give such little notice of an increase in rates. The proposed tariffs do not in any way reflect the limited coach parking availability and the lack of amenities and the percentage increase is not reflected by any investment from the airport to improve or grow its coach access and parking.
"CPT highlighted that the increase flies in the face of the objectives of the Edinburgh Airport Surface Access Strategy and Masterplan – both of which state an aspiration to grow the percentage of trips to the airport by sustainable transport modes.
"This is unfortunately not the first time that Edinburgh Airport has increased tariffs at short notice and CPT will engage with the Airport in early 2018 to avoid any future instances."
Asked by CBW to explain the reasons behind the move, a spokesman for Edinburgh Airport replied: "Edinburgh Airport is Scotland's busiest, catering for 13.4m passengers in 2017, and we predict further increased growth over the next few years which will increase demand on the airport's facilities.
"The coach park remains one of the cheapest ways to access the airport on a price per passenger basis, and this relatively modest increase will help us expand and improve facilities across the campus as we prepare for further growth."
In the face of rising passenger numbers, Edinburgh Airport is expanding its facilities. Designed to support forecasted growth of up to 16.5m passengers in 2021 and beyond, construction continues on its £80m extension project, which will see six new gates added. In a recent statement, it was announced a total of 13,432,485 passengers tracked through the airport – an additional one million compared to 2016. Edinburgh Airport said the growth has been driven by international passengers, which are up almost 14%. The facility also enjoyed its best ever December, with 925,017 passengers using the terminal.