1978 – The world's first test tube baby was born, 'Grease' was the highest grossing movie of the year, and the classic arcade game Space Invaders was released.
Most importantly, however, Coachmart was launched. In 1992, then publisher EMAP merged it with Bus Business, and CBW was born. As we celebrate 40 years of the publication, we will be delving deep into the archive to showcase the evolution of the publication.
Dominic Ward begins our look back at the past 40 years by looking at some notable anniversary editions:
• Issue 1 of Coachmart – our launch;
• Issue 49 of Coachmart – our first anniversary;
• Issue 255 of Coachmart – our 5th anniversary;
• Issue 512 of Coachmart – our 10th anniversary;
• Issue CBW346 – our 20th anniversary; and
• Issue CBW859 – our 30th anniversary
Issue 1: November 8, 1978
In his inaugural editor's comment, Terry Beanland – Coachmart's very first editor – explained that as an ex-coach operator and travel agent, he knew the frustrations of the industry, and took the decision to launch a free-to-operators weekly magazine. He added: "In order to be relevant and useful a coach operator's magazine should publish articles about all areas which concern him."
20 pages in length, it featured news from Plaxton, who were showcasing its brand new 29-seater Bedford PJK supplied to Norman Boyes coaches of Bradford, as well as one of the first Plaxton Supreme IVs delivered to an operator – in this case, Midlothian Operator William Hunter.
The launch edition also featured adverts for coach-friendly attractions, such as Howletts Zoo Park near Canterbury, and Port Lympne Wildlife Sanctuary. It also had features on Hornsea Pottery, York, and The Wetherby Turnpike Hotel.
Issue 255: November 11, 1983
By our fifth anniversary, we had a change of personnel. Terry became Chairman and Managing Director, with the position of editor held by Houston Ramm.
This edition reviewed the Yeates Show, held in Loughborough. Vehicles on display included a Mercedes-Benz 0303, as well as a LAG Galaxy, mounted to a Volvo B10M chassis, shortly to be delivered to JALNA of Church Gresley.
The issue had a profile on Belsey's of Storrington, as well as a feature titled 'Licencing and Legal Matters.' Legal matters of the day included "Perthshire independents" Stagecoach Ltd challenging the decision of former Secretary of State for Transport, Tom King, "who allowed an appeal against the grant by Scottish Traffic Commissioners of an application by the company to convert an express service into a limited stop stage carriage service."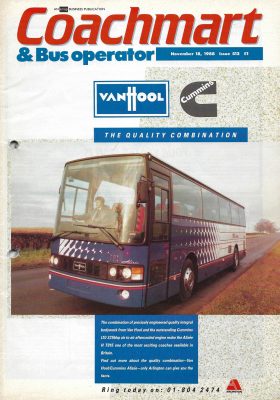 CBW346: November 12, 1998
Celebrating 20 years, issue 346 of the newly renamed Coach and Bus Week reported Norfolk County Council were poised to buy its own fleet of school buses to combat operator price increases, Brighton & Hove took the top honours in the National Federation of Bus Users awards, and Renault clinched a 200-vehicle order for CNG and LPG vehicles in Paris for city transport trials.
CBW346 also featured six pages of tourism news, which showcased the Millennium Dome launching its own website with 3D interactivity, as well as the ninth Coach Tourism Council Coaching for Pleasure Day, with 26 coaches and 1,000 group travel organisers descending on the Royal Armouries in Leeds.
Legal news of the day focused on driver hours, with a couple of cases involving Skills Motor Coaches Ltd and Redline Travel highlighted.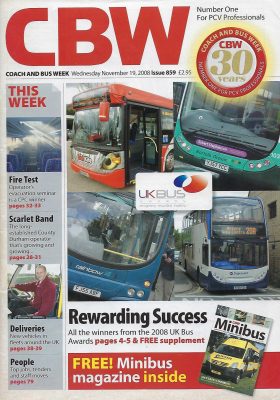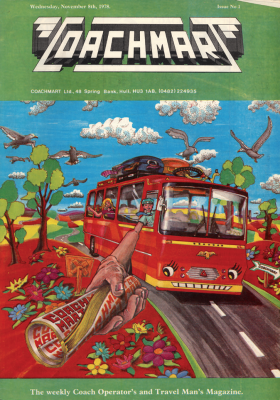 Issue 49: November 9, 1979
Issue 49 marked Coachmart's first anniversary. It featured a preview of the Scottish Motor Show, held over Friday, November 9 to Saturday, November 17 inclusive. The preview had a focus on Moseley's (Scotland) Ltd, and also stated that former heavyweight boxing champion Henry Cooper would be promoting the Extended Warranty scheme of Scotguard.
Promoted as a 'Club and Theatre Special,' the edition looked at a variety of attractions, including The New Cresta in Solihull, a 700-seat cabaret restaurant, as well as Lakeside in Frimley Green. Big names were on the bill, including Cliff Richard, Bob Monkhouse, and Jimmy Tarbuck & Ivy League.
The stage show promoted was a revival of Rookery Nook, starring Dora Bryan, at Her Majesty's Theatre in London, and the pantomime on offer was Cinderella at Theatre Royal, Nottingham, starring Windsor Davies and Don Estelle of 'It Ain't Half Hot Mum.'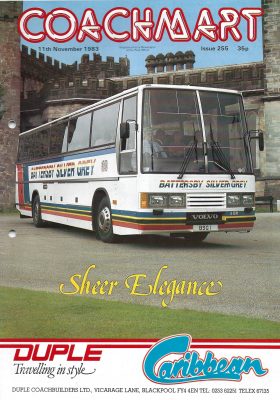 Issue 512: November 18, 1988
November 1988 saw Coachmart turn 10 years old. Now owned by EMAP and produced in Peterborough, the top story from page six related to coach operators responding to rail fare increased planned for January 1989. A season ticket then between Peterborough and London King's Cross would have cost £2,396 which in 'today's money' is around £4,500.
Issue 512 had a profile with Veronica Gunn, who started off as a 'clippie' with Safeway Services, and had received an MBE for her services to transport.
Also included was the show preview and floorplan for World Travel Market, held at London Olympia between November 29 and December 3. One particular entry caught my eye: "The London Tourist Board will, oddly, be introducing visitors to Miss Iceland, together with Frankenstein's monster and Count Dracula." Whilst an eclectic mix, this was of course in conjunction with London Dungeon.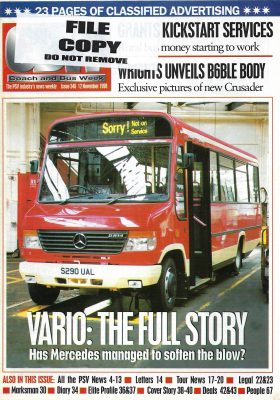 CBW859: November 19, 2008
Our 30th anniversary edition featured an interview with Durham-based operator Scarlet Band. The feature was written by a certain News Reporter by the name of Gareth Evans. I wonder who he could be…
Warrington Borough Transport scooped the top industry gong in the 2008 UK Bus Awards, whilst the top legal news was a tribunal upholding the ban for Kilpatrick Coach Hire.
It also showcased news from Euro Bus Expo 2008, held at the NEC in Birmingham, and reported MAN's Bus & Coach Division was now set up and running in its Sheffield facility, with the very first right-hand drive Neoplan Starliner 2 on its stand.
The minibus section reported the launch of the Iovan – billed at one of the safest minibuses, it was developed by Brecon Coachworks, Swansea University and Irisbus Iveco UK.