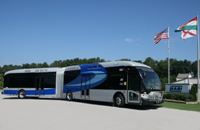 New order will bring the total number of NABI buses in Broward's fleet to 170
USA North American Bus Industries, of Anniston, Alabama, is supplying 50 articulated BRT (Bus Rapid Transit) buses to Broward County.
The initial delivery, which is already underway, will bring the total number of NABI buses in Broward's fleet to 170. The latest order consists of both 40 foot and 60 foot BRT articulated buses.
"The current fleet of NABI buses in Broward County is providing Fort Lauderdale and the surrounding area with a dependable and efficient means of transportation. The LFW and BRT are producing good results for our customers and the BRT buses are growing rapidly in popularity due to the highly advanced styling," said Chris Dabbs, NABI's regional sales manager.
All the new buses will have cleaner burning diesel engines and many will benefit from Allison Hybrid propulsion technology. The new buses will include energy saving features such as electrified cooling and air-conditioning componentry as well as passenger friendly seating.
Broward County is initiating specialised services to optimise the use of the BRT vehicles. These buses with their advanced aerodynamic style will be easily distinguishable from the regular fleet buses. Many will have features such as Wi-Fi capability and individual charging stations for customer laptops and other devices, making the commute both pleasant and productive. Attracting riders to use its buses and relieving traffic is a natural progression toward achieving the County's goal of enhancing the lives of Broward's citizens and visitors. Broward County's operating service area covers 410 square miles.
Timothy Garling, director of Broward County Transit Division said the new innovations and new vehicles will benefit the system and further their effort to provide the best services possible to passengers.