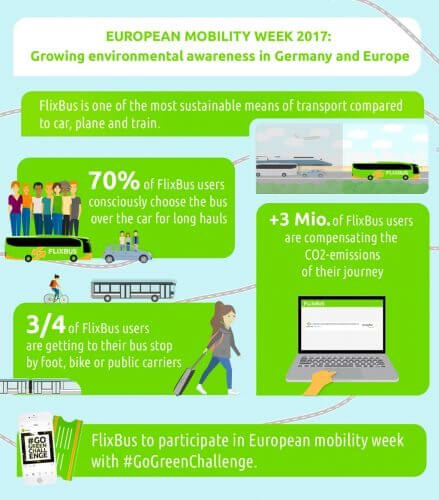 3,577 people interviewed and 483 vehicles examined
GERMANY First results of two national studies on the social and sustainable impact of long-distance coaches are about to be released, says FlixBus. The institutes IGES (Institute of Global Environmental Studies) and IFEU (Institute for Energy and Environmental Research) have cooperated with the operator, interviewing 3,577 subjects (IGES) and examining 483 coaches (IFEU). Both studies will be published mid October 2017.
Since its launch in 2013, FlixBus has established long-distance coaches across Europe and says it is changing the way people travel. The "FlixBus effect" is that 70% of the passengers surveyed had consciously chosen the coach over the car for long-haul journeys.
Sustainability has a growing influence on the consumer's choice of a means of transport, says FlixBus. According to the first results from IGES, roughly 20% of travellers are choosing the long-distance coach over other means of transport because of its eco friendliness. 70% of FlixBus users have at least occasional access to a car.
Bettina Engert (Director Corporate Communications, FlixBus), said: "Consumers are turning more and more to shared mobility alternatives. We strongly believe that we can contribute to a sustainable change in mobility patterns. Travellers that are choosing the FlixBus over going by their own car are having a real impact on the climate. We are proud to be part of shaping a growing awareness for green, eco-friendly mobility."
In cooperation with local SME (Small & Medium size Enterprises) partners, FlixBus runs a fleet of over 1,200 long-distance coaches. According to the IFEU-study, more than 80% of the FlixBus fleet is Euro 6. This standard applies only to 10% of the touring coaches on German motorways. The modern fleet and the high utilisation rates are making the FlixBus one of the most sustainable means of transport compared to car, plane as well as train. According to an international customer's survey, three quarters of FlixBus users are getting to their coach stop by foot, bike or public carriers. 40% are using local public transport and another 20% are walking to the bus stop.
FlixBus offers individual compensation for the traveller's CO2-emissions during the booking process. In cooperation with atmosfair it is possible to have the CO2-emissions calculated with precision for every ride, and then to offset those emissions at the push of a button during the booking process. The CO2 offset adds 1-3% to the ticket price. Around 10% of the over 30m FlixBus customers per year are choosing to compensate their CO2 emissions. In 2017, the CO2-contributions will finance atmosfair's UN-accredited Gold Standard project "energy-efficient stoves" in Rwanda.
In line with European Mobility Week (September 16-22) and the World Car Free Day (September 22), FlixBus started a challenge asking its 1.5m Facebook fans what their contribution was to make the planet a greener place and to share it on social media using the hashtag #GoGreenChallenge. Among the best contributions, a prize of 'unlimited FlixBus travel' for one year will be raffled.