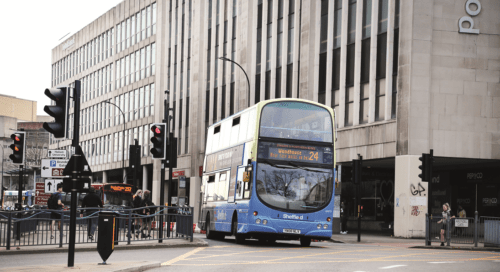 The Government has confirmed the allocation of £80m of funding to local authorities in England for the 2024-25 period as part of BSIP+
Passengers on buses across England look set to benefit from ongoing reduced fares and better services following the Government's announcement of a further £80 million to support buses into 2025. On Thursday 28 September, Roads Minister Richard Holden confirmed allocations for 64 local authorities across England from the £80 million investment in the Bus Service Improvement Plan+ (BSIP+) for 2024-25.
Local authorities can use the funding to improve local buses in a number of ways, such as by introducing new services, extending timetables with additional morning or evening buses, or by making tickets cheaper through reduced fares for elderly or young people, depending on what will be most valuable in their local area, the Government says, adding that the money could also be used to protect services with low passenger numbers.
The Minister said: "Buses are the most popular form of public transport, and millions of people across the country from the Tees Valley to Torbay rely on their local service to get to work, attend medical appointments and see loved ones. We are providing a further £80 million to help local authorities improve and protect essential services, delivering for local communities across the country by enhancing transport connections, supporting passengers and growing the economy."
The funding matches the £80 million BSIP+ investment for 2023-24, building on the £1bn of BSIP funding announced in 2022. The Government says it will continue to work closely with bus operators and local transport authorities to ensure an adequate provision of bus routes to deal with changing travel patterns while managing pressures on the taxpayer.
Janette Bell, Managing Director of First Bus, commented on the news. She said: "We welcome the certainty provided by today's confirmation of the next tranche of local authority funding allocations. We look forward to working together with our local authority partners to deliver the best services possible for our customers. At First Bus we are driven by a passion to get more people using the bus and we welcome any funding that makes taking the bus an easier travel choice."
The CPT also welcomed the move. CPT's Senior Policy Adviser Rebecka Steven said: "We welcome the news that the Government has allocated £80m to local authorities through the Bus Service Improvement Plans+. Operators will continue working with local authorities, to ensure that this funding is targeted at protecting essential bus services that are vital in keeping passengers connected to work, education, healthcare and leisure opportunities."