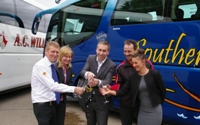 The Lincolnshire firm has significantly expanded its fleet and contracts
Lincolnshire operator A C Williams has announced a 50% expansion with the acquisition of neighbouring Southern Holidays, building on a record year which saw company turnover soar by 40%.
The company's Executive Chairman, Glen Pratt, has said it is setting its sights on becoming Lincolnshire's biggest operator.
Together the merged companies offer a fleet of nearly 30 vehicles, ranging from executive coaches through to double-deckers and wheelchair minibuses. The merger sees the two companies offering a total of 50 holiday departures and over 200 day trips next year, alongside their schools and UK & European commercial contracts.
The entire fleet is maintained through A C Williams' own specialist workshop and the company has invested £500,000 in equipment and vehicles this year alone. The combined companies will employ 35 people.
Glen Pratt, who took over the A C Williams business just over 12 months ago, said: "The joining of these well-respected names will provide all our customers with a bigger choice from our top of the range fleet of vehicles. Corporate customers will have greater flexibility from the bigger fleet and wider range of vehicle capacities, while our day trip and holiday travellers will find even more choice in types of trip and new destinations.
"We want to become Lincolnshire's best and most trusted coach operator and this expansion makes us well placed for future growth."
For corporate customers, A C Williams has earned its reputation as a major contractor for schools transport and also has a wide customer base in commercial contracts and private hire. For day trip and holiday travellers, Spanish specialist Southern Holidays complements the UK and continental itineraries of day trips and holidays offered by A C Williams.
The Southern Holidays divisions will benefit from future investment and expansion through the strong financial standing of A C Williams. Directors Leigh and Rebecca Robbins and all the employees of Southern Holidays will continue in the newly merged group.
The intention is for A C Williams and Southern, both local familygrown companies, to operate all the merged services from the A C Williams site in Ancaster, with Southern staff transferring to the Ancaster offices from their current Sleaford base.