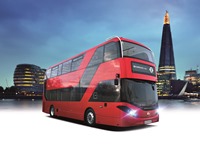 Enviro400H City will be unveiled for the first time at Coach & Bus Live in two weeks time
Alexander Dennis (ADL) is to launch a new variant of its hybrid double-decker, the Enviro400H City. The 10.4m bus will be capable of carrying 90 passengers and be powered, like the manufacturer's other hybrid 'deckers, by a BAE HybriDrive utilising a four-cylinder, 4.5-litre Cummins ISBe engine and the latest generation Lithium-ion battery technology.
ADL says that the new bus will be more fuel efficient, generate fewer emissions and be more competitively priced than any vehicle in its class. It will initially go into service in London, backed by a multi-million order that will see the first 19 purchased by Arriva, all of which will enter service on Transport for London (TfL) tendered route 78 later this year.
"This is a spectacular, new-look vehicle that will bring a further dimension to transport in the suburbs and the city centre of London," said Colin Robertson, CEO of ADL, adding: "It builds on the 'London look' with a glazed stairwell, wrap-over rear saloon windscreen and a series of unique design features that reduce solar gain. Significantly, it also represents an evolution of Britain's best-selling hybrid bus, our Enviro400 double-deck, which has a reputation second-to-none for fuel economy, reduced emissions, reliability and all-round performance, hence the reason 850 ADL hybrids are already in operation in towns and cities across the UK."
Peter Batty, Commercial Director at Arriva London, said: "We are delighted to be working with ADL and TfL on this project. The new-look is stunning and brings together a whole range of passenger and driver advantages, including a wrap-around front windscreen and glazed stairwell."
The new two-door bus builds on the Enviro400 MMC (Major Model Change) that was introduced by ADL in spring last year, a vehicle that was developed over a three-year period in conjunction with dozens of operators, drivers, suppliers and transport organisations – and which was hailed by the manufacturer at its' launch as the bus "designed by the industry for the industry."