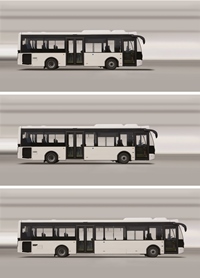 HOLLAND VDL Bus & Coach has introduced three new length variants of the VDL Citea LLE. They are the Citea LLE-99 with a length of 9.9 metres, the Citea LLE-107 at 10.7 metres and the Citea LLE-127 which is 12.7 metres long.
VDL describes the Citea as its lightweight champion. The kerb weight of the 12-metre variant is at least two tonnes less than that of similar buses. This results in very favourable fuel consumption, greatly reducing emissions of CO2, fine particulates and NOx.
With the introduction of the new length variants, the manufacturer says that it's extending the successful Citea LLE formula to a wider range of applications. The LLE-99, LLE-107 and LLE-127 are built using the same innovative lightweight concept as the 12-metre version. The low kerb weight also results in lower maintenance costs. The 'Profit of Ownership' is described as "more-than-excellent."
The new shorter variants of the bus are specifically designed to cater for situations where passenger demand is more limited and where scheduled service have clear peak and off-peak hour requirements.
Passenger transport companies are focusing more and more on products that match their transportation needs, says the manufacturer. Where transportation demand is lower, the use of smaller buses contributes to the green image. This is especially true when the new VDL Citea LLE-99 and LLE-107 are used, which due to their lower kerb weight, consume significantly less fuel.
The high total passenger capacity to length ratio of 78 people for the LLE-99 and 80 for the LLE-107 provides even greater TCO (Total Cost of Ownership) benefits. An additional benefit when it comes to old city centres is the manoeuvrability. The shortened wheelbase and rear overhang reduce the turning circle and swept path, making it easier to negotiate narrow streets.
Demand for the new extended version of the Citea LLE will stem from the desire for more luxury and comfort for intercity transport over longer distances, says VDL. For this type of transportation, buses with more seats are in demand. The extended wheelbase of the Citea LLE-127 provides four additional seats compared to the 12-metre version. Compared to similar buses with the same number of seats, the Citea LLE-127 also benefits from the advantages of the low kerb weight – lower fuel consumption, lower emissions and lower maintenance costs – all of which reduce TCO and result in greater Profit of Ownership.