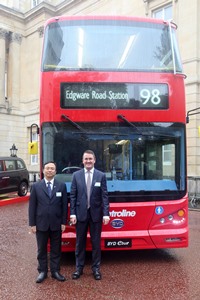 Talks are ongoing for an even larger electric double-decker deal which could result in a combined revenue of over £2bn from the partnership
A £660m deal with the potential to more than triple in the next 10 years
has been signed in London by BYD and Alexander Dennis Ltd (ADL).
The manufacturers are joining forces to introduce emission-free buses.
The joint venture agreement was signed on the occasion of the state visit to the UK by President Xi Jinping of China on October 21. It envisages an initial contract between the two companies to build 200 12-metre single-decker buses per annum, representing turnover of around £660m over the next 10 years.
Both companies confirmed that they are already in advanced discussions with a view to extending their alliance to include double-decker buses. If this happens, there is potential to triple the scale of the current deal to almost £2bn.
BYD and ADL first indicated their intention to work together in July, when BYD confirmed that it had won an order for 51 12-metre electric single-deckers for TfL. All 51 of the vehicles will incorporate BYD chassis and electric powertrain technology and will have ADL Enviro200 bodies.
The BYD-ADL collaboration deal was signed by Wang Chuan-fu, Founding Chairman of BYD, and Colin Robertson, Chief Executive of ADL.
Speaking at the signing ceremony, BYD's Mr Wang said: "Working with top industry partners such as ADL will enable us to speed up acceptance of our vision for fully-electrified public transport systems that can make a major contribution towards the clean air challenges facing cities around the world.
"ADL's know-how and local market experience in the UK, combined with its global expertise in the double-decker sector and our class-leading knowledge of electric technology, creates the perfect platform to jointly develop a range of cost effective, emission-free vehicles to suit every requirement."
ADL's Colin Robertson added: "This is the start of an exciting journey with enormous potential and we are delighted to be working with BYD. Their expertise in electric vehicle technology is second-to-none, while we have a global reputation for robust, reliable, high performance vehicles that deliver what they promise – and are backed by world-leading parts and service support, both in the UK and international markets.
"The combined strengths of BYD and ADL create a powerful new alliance and I look forward to our business relationship flourishing in the years ahead. It is a fine example of British-Chinese co-operation and two innovative companies working together to create cleaner, greener transport solutions.
"It is also important to recognise that it is initiatives like this that help us support 2,500 ADL jobs and a further 1,500 in our build partnerships around the world."