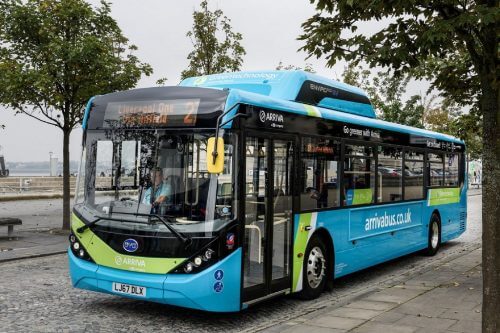 The vehicles are the first from the ADL BYD partnership to be delivered outside London
A fleet of 12 BYD Alexander Dennis Ltd (ADL) Enviro200EV 12m buses has been delivered in Liverpool.
The vehicles will be operated by Arriva Merseyside and begin service later this month on the city centre circular routes 26 and 27, known as The Belt.
The delivery of the buses follows a joint bid under the Government's Office for Low Emission Vehicles (OLEV) scheme by Arriva North West and Merseytravel. The new buses will operate an intensive service from the Liverpool One bus station and will be based at Arriva's Green Lane depot in Liverpool. BYD chargers have been installed in the depot.
The order is the first to be won by the ADL BYD partnership (with ADL as prime contractor on this occasion) outside London. The partnership has won every Transport for London (TfL) tender so far for full-size pure electric buses and a total of 157 are now in service or on order to serve TfL routes.
The buses for Merseyside are expected to cover 100 to 130 miles per day, with most operating 12 hours a day. One duty cycle calls for a 19-hour operating schedule. They will be charged overnight.
The vehicles are designed to operate a full day's duty cycle on one charge, without the need for disruptive 'top-up' charging during the working day. Arriva benefits from lower cost off-peak electricity when the vehicles are charged.
The ADL BYD Enviro200EVs being supplied to Arriva feature a provincial specification with the fitting of 38 seats. There is space for another 32 standing passengers and USB charging points have been installed throughout the buses.
Howard Farrall, Arriva Merseyside Managing Director, said: "Arriva is committed to ensuring its fleet meets the latest clean vehicle standards. We are extremely proud to be joining forces with ADL and BYD UK at the forefront of the electric bus revolution.
"This new partnership will further contribute to Arriva's 'Destination Green' environmental goal, which includes ambitious plans to reduce carbon emissions, conserve energy and invest in renewable sources."
Arthur Whiteside, Managing Director – UK Sales at ADL, commented: "This is a landmark moment not just for the successful BYD ADL partnership but for the roll-out of zero-emission electric buses in British cities.
"We are delighted as prime contractor to help Arriva Merseyside and Merseytravel make buses an even cleaner and greener option for Liverpool. Arriva's Enviro200EVs demonstrate that the technology is ready to roll out fully electric buses in provincial towns and cities without compromising on operational efficiency."
Isbrand Ho, Managing Director, BYD Europe, added: "Liverpool is pioneering a route for other British cities."