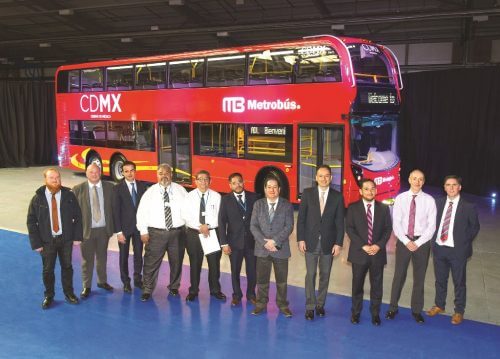 Leading UK manufacturer continues to develop market opportunities around the world
BRITAIN Alexander Dennis (ADL) is continuing its global growth by expanding its existing operations outside the UK and by breaking into new markets. CEO Colin Robertson outlined progress at Euro Bus Expo.
The past year in North America has seen facility start-ups in Canada and US along with the delivery of the first Enviro500 SuperLo vehicles to Greater Toronto and Hamilton transport authority Metrolinx in July. Building upon the success of the 4.1m height Enviro500, which continues to be offered across the US and Canada, ADL's engineering expertise enabled the development of an innovative chassis design that reduces overall vehicle height to just 3.9m while maintaining the spacious interior saloon dimensions which maximise passenger comfort on interurban commuter routes. There are now over 1,000 Enviro500 delivered to North America and looking ahead, 2017 is set to be a record year in in terms of sales and registrations.
As announced last year, a new market is Mexico. The first of 90 Enviro500 double deck buses for Mexico City are now complete and the whole fleet is on target for delivery by the end of summer 2017.
Progress has also been made to bring Enviro500 buses to continental Europe, where the first double-deckers for PostAuto of Switzerland will be handed over in spring 2017. They will be the result of close work with this important operator, and the exploration of further European opportunities in several countries continues.
Hong Kong, ADL's main market in the Asia Pacific region, continues to be strong with 1,000 vehicles going into service in 2015 alone and close to 600 so far this year, giving the company 80% market share during the peak replacement phase of this market. The 2,500 Enviro500s introduced over past three years represent 45% of the entire Hong Kong fleet.
Far from being complacent, ADL remains agile and continues to respond to specific customer requirements to meet their operational goals. A recent example is the order for 60 low-height Enviro400s for the Victoria Peak route, delivery of which will start next month.
ADL's focus is equally evident in Singapore, where it has moved into larger premises to house its growing team.
With 200 Enviro500 delivered, a concept vehicle with three doors and two staircases was launched this year in collaboration with the Land Transport Authority (LTA) to very positive feedback from passengers.
New premises have also been acquired in Malaysia, a combination of office space and a parts warehouse. There are 120 buses, a mix of Enviro500 and Enviro200 in operation now with government operator Prasarana – and they have proved sufficiently popular in Kuala Lumpur that three of the double-deckers and two single-deckers are now being trialled in Penang.
In New Zealand, 400 two-axle Enviro200 buses have been built over the last five years.
Their success has enabled the development of a 12.8m three-axle Enviro200 engineered to comply with New Zealand's strict regulations while carrying 45 seated and 38 standing passengers. Thirty-eight Enviro500s have been supplied over the last 12 months with new orders for a further eight for Birkenhead Transport, plus more in the pipeline.
The first Elite coaches for New Zealand will be 10 13.5m examples ordered by Ritchies for delivery in June 2017 in readiness for the British and Irish Lions Tour and for subsequent use on intercity routes. The Cheetah XL also proves popular thanks to the operational advantages of a 35-passenger carrying capacity in a 9.6m midi coach, and orders have been placed by ManaBus.com and Nimon & Sons.