Alexander Dennis Ltd (ADL) has opened a new facility in Singapore.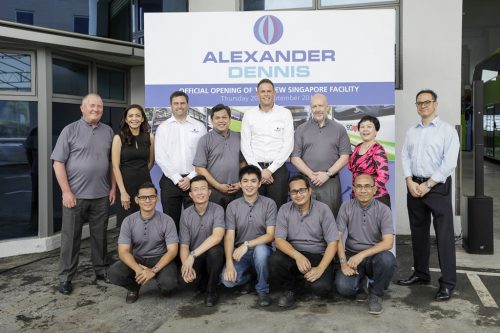 The new site includes a parts distribution and training centre for the wider South East Asian region, in addition to offices for the local team working with customers and stakeholders in Singapore.
ADL said it has used its established presence in Hong Kong as a springboard to expand into new markets in South East Asia, breaking into Singapore in 2014 and Malaysia in 2015.
The new 25,000 square foot facility, in the north of Singapore close to the Woodlands border crossing to Malaysia, has a parts warehouse, bus workshop, training room and offices. It is designed to support contract requirements defined by Singapore's Land Transport Authority.
ADL's parts business in Singapore has grown significantly over the last two years and it expects the new facility to serve as a hub to the South East Asian customer base.
Paul Davies, Managing Director for Alexander Dennis Asia Pacific, said: "Asia Pacific is a key area of strategic growth for ADL. Building on our existing successes in Hong Kong, Singapore, Malaysia and New Zealand, we look forward to further expansion of our activities.
"Our new facility in Singapore will support these ambitions by providing a first-class operating base for South East Asia."