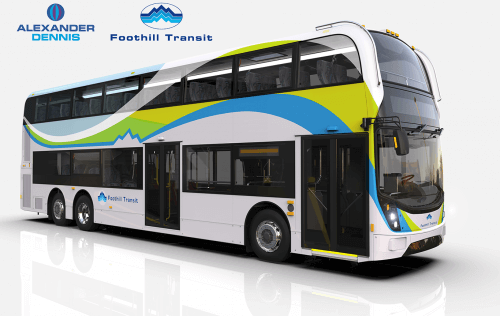 Foothill Transit purchases pair of electric tri-axle double-deckers after a successful trial in October 2016
Alexander Dennis Limited (ADL) is to supply two Enviro500EV tri-axle double-deckers to Foothill Transit in California through its American subsidiary, Alexander Dennis Inc. The vehicles are expected to be delivered in 2019.
Foothill Transit first demonstrated the Enviro500EV on its downtown Los Angeles routes in October 2016. It said the customer response was overwhelmingly enthusiastic.
Building on the 4.1m-high model which Foothill Transit trialled, the new Enviro500EV double-deckers will replace two 12-year-old CNG buses. With a capacity for 80 passengers, they will carry more than twice the number of people which are currently transported in the existing CNG buses (38), despite occupying the same road foot print.
The vehicles will use the E2 battery, manufactured by Proterra. Last year, the same battery system broke the world record for distance travelled by an electric bus on a single charge, when the 'Catalyst' bus managed a distance of 1,101.2 miles.
"Deploying the Enviro500EV will be transformative for Los Angeles and for the United States," said Doran Barnes, Executive Director of Foothill Transit.
"No other transit agency in the country utilises this technology on commuter express routes, and adding seats without increasing traffic congestion or local greenhouse gas emissions is the ultimate benefit for one of the nation's most heavily-travelled corridors."
Robert Davey, President of Alexander Dennis Inc, added: "Our double-decker buses have helped revolutionise passenger transport in cities across North America and around the world by transporting the highest number of passengers, seated in comfort and safety, on the same road occupancy footprint as single-decker vehicles.
"We're now seeing increasing global demand for electric buses which combine the same high passenger capacity and outstanding comfort, with zero emission technology.
"As congestion and local air quality challenges remain top of every transit authority's agenda, we're excited to raise the bar in Los Angeles County with transit pioneer, Foothill Transit, and heavy-duty electric vehicle technology innovator, Proterra."
Ryan Popple, CEO of Proterra, added: "As electric mobility continues to evolve, we're pleased our battery technology has been chosen by world class, heavy-duty manufacturers like Alexander Dennis in their pursuit to go electric in North America. The opportunities to electrify medium and heavy-duty platforms with our technology, from transit vehicles to trucks and school buses, are abundant."