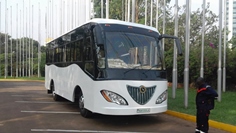 UGANDA A vehicle described by its maker as Africa's first solar-powered bus, has been unveiled by Kiira Motors Corporation (KMC) in Kampala, Uganda.
Called Kayoola, the 34-seater has two lithium-ion battery banks with a combined 70kWh capacity, each of which alternately recharge primarily using an ORCA (On-Road Chargers from Andromeda) 50kW mobile charger. That gives a range of 80km, latent extended by up to 12km using real-time charging from the solar photovoltaic panels on the vehicle's roof. While one battery pack is recharging using the mobile charger, the other powers the vehicle and its auxiliaries and both banks can be replenished in 1.4 hours says KMC.
The 9.14m-long, 2.59m-wide bus has a top speed of 100kph. Its traction motor is an electric Remy HVH250-115-DOM with maximum power of 150kW and torque of 400Nm. Rinehart Motor Systems supplied the motor controller with a maximum DC operational voltage of 720V. Solar panels are a combination of nine AFR-130W and three YL-50W units while Morningstar supplied the TriStar MPPT 60 solar charge controller with a terminal voltage of 24V.
The body structure is steel, bolted and welded while checkered plates and aluminium strips have been used for the floor. Saloon side panels are in Formica and the roof is made of medium density fibreboard. Leather-covered passenger seats have been specially designed.
KMC's Chief Executive Paul Isaac Musasizi told the BBC at the launch of Kayoola that he had been "humbled" by the large and positive reaction to the test drive. People had been excited by the idea that Uganda is able to produce the concept vehicle and he wanted it to help the country "champion the automotive, engineering and manufacturing industries" in the region.
He also hopes that it will generate employment, predicting that by 2018, more the 7,000 people could be directly and indirectly employed making the bus. The vision is that by 2039 the company will be able to manufacture all the parts and assemble the vehicle in Uganda. If mass produced, it would cost up to $58,000 (£40,000).
Established in 2012, KMC is the result of collaboration between Makerere University, College of Engineering & Industrial Design, the Uganda Ministry of Trade, the Office of the President of Uganda and industry and co-operative partners. KMC has land at the Jinja Industrial and Business Park in the south east of the country on which to build an assembly plant that would allow commercial production to start. First vehicle is likely to be the Smack, a five-seat car with internal combustion engine, hybrid and electric drive options although the Ugandan Government has signed a memorandum of understanding with Hinduja Group aimed at establishing a Kiira-Ashok-Leyland joint venture that will manufacture trucks and buses in Uganda.