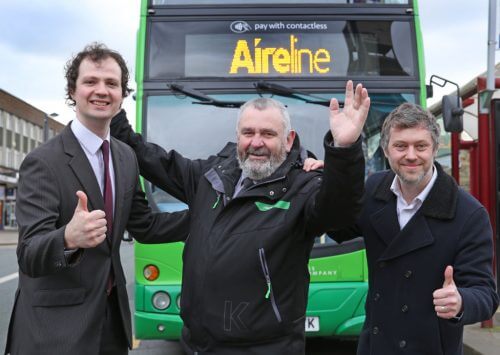 The Keighley Bus Company has announced improvements to its Aireline service, which follows the route of the River Aire. The operator relaunched its service linking Keighley, Saltaire and Shipley with Leeds in October 2017 with a fleet of new Optare buses. Since then, it says that customer numbers have continued to rise, with a 7% year on year increase in 2019 versus the previous year. The final four months of 2019 also saw numbers using the Aireline buses up by 4% compared with 2018.
The Keighley Bus Company is now implementing a number of improvements to cater for rising demand, while working in partnership with local authorities along the route to deliver further customer growth. These include:
More seats from Leeds: Extra Monday to Friday rush-hour trips offering a bus every 20 minutes from Leeds which were launched in September 2019 and an additional double deck bus with 25 more seats than the usual buses was brought in to add more capacity on the 1635 and 1655hrs departures;
More seats for Shipley: From February 2020 an additional double deck bus has been brought in to provide more space for morning commuters on the -731hrs bus from Shipley, arriving at Leeds City Bus Station at 0855hrs;
More capacity to come: Revitalised double deck buses will be used on the busiest Aireline journeys from this summer;
Clearing the air: All Aireline buses are to be upgraded this Spring to meet the latest clean air standards and further reduce emissions, protecting the local environment; and
Planning now for more growth: The Keighley Bus Company is working with partners to understand how major employers moving to Leeds, such as HMRC, will offer more opportunities to boost bus services and cut pollution and congestion on the roads.
The Keighley Bus Company's General Manager Alan Isherwood said: "We're delighted to announce our plans to build on the amazing success of Aireline, which has really taken off since we introduced our Yorkshire-built buses filled with features suggested by those who know best – the people who travel with us every day for work or leisure.
"We're also expecting a new layout at the junction of New Line and Harrogate Road in Greengates to help speed up journey times as our buses will no longer be held up by turning traffic on the junction. Work to build the new junction may lead to some short term delays this year, and to make sure the service is as resilient as possible we'll run an extra bus on Aireline to help keep the service on time."
Councillor Alex Ross-Shaw, Regeneration, Planning and Transport Portfolio Holder at City of Bradford Metropolitan Council. Councillor Shaw said: "It's very encouraging to see the increasing number of people from Keighley and Shipley using the Aireline buses. Every bus journey helps to reduce carbon emissions and congestion on our roads, and the further investment to increase capacity on the service can only be good news for our district. We're doing our bit by investing in our transport network, such as the Harrogate Road and New Line junction, to reduce congestion, which makes bus services like these faster and more reliable.
"Access to high quality bus services is a key part of our shared aspiration for Bradford district and West Yorkshire as a whole, to make our communities safer, healthier and more sustainable for all."