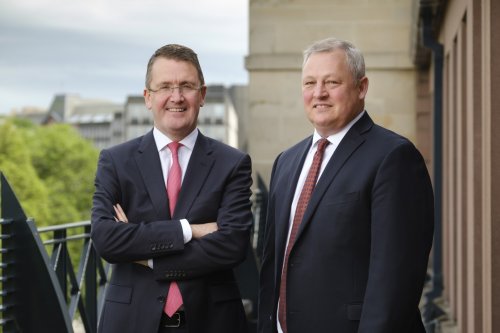 Canadian firm, which produces New Flyer and ARBOC buses alongside MCI coaches, acquires ADL for £320m. The ADL brand will be retained
Alexander Dennis Limited (ADL), has been acquired by NFI Group Inc. (NFI), North America's largest coach and bus manufacturer.
NFI acquired ADL for £320m, representing an implied purchase multiple of 7.3 x ADL's fiscal year 2018 adjusted EBITDA. The transaction was funded through NFI's existing credit facility, a new $300m credit facility and the issuance of 1.47 million common shares of NFI, in lieu of cash, to ADL's primary shareholders, including ADL's CEO and CFO.
ADL will retain its own brand. Chief Executive Colin Robertson, who has led the growth and internationalisation of the company over more than 10 years, and Chief Financial Officer, Michael Stewart, will continue to lead ADL. They will also be tasked with 'driving NFI's international growth ambitions.'
Headquartered in Falkirk, Scotland, ADL employs over 2,500 people and has over 31,000 vehicles in service. It has operations in the United Kingdom, Ireland, Europe, Hong Kong, Singapore, Malaysia, New Zealand, Mexico, Canada and the United States.
NFI has 6,300 employees, operating from facilities across Canada and the United States, where it has 74,000 vehicles in service. It provides accessible mass transport under the brands: New Flyer (heavy-duty transit buses), ARBOC (low-floor cutaway and medium-duty buses), MCI (motor coaches), and NFI Parts (parts, support and service).
ADL and NFI had a Joint Venture in North America from 2012 to 2017, in which NFI built and sold the Enviro200 as the MiDi. Approximately 200 of the buses were sold in Canada and the USA. The joint venture was described as 'a great learning experience for both ADL and NFI' and one that laid the foundation for the transaction.
NFI said: "ADL's Enviro200 vehicle was well received by customers, but due to challenges of margin sharing, UK engineering and US manufacturing, dealer network, plus start-up costs to establish the product's brand in North America – it was difficult to sell the vehicles at a competitive price and still make a margin."
ADL continues to sell the Enviro200 in North America. NFI said it sees the vehicle as complimentary to the ARBOC Equess, and having both its portfolio would provide a good opportunity to continue to enhance NFI's North American platform.
ADL Chief Executive, Colin Robertson, commented: "We are incredibly proud of the growth and success we've had building Alexander Dennis over the past 15 years, and I'm excited to have the ADL team join NFI – one great bus company joining another.
"We believe our consolidated businesses will enhance NFI's market leading position in North America, while improving NFI's offering through combined engineering expertise, supplier partnerships, electric vehicle know-how and aftermarket platforms. I look forward to continuing our solid progress at ADL and championing further international growth for NFI in coordination with Paul and his leadership team."
Paul Soubry, NFI's President and Chief Executive Officer, said: "This is a transformational acquisition for NFI to become a global bus manufacturer.
"ADL is the UK's number one bus manufacturer and the number one global producer of double-decker buses, with an established international presence and is recognized as a leader known for innovative products and a commitment to quality and service.
"We're thrilled to have ADL join the NFI family in a transaction that we believe will drive our business forward by combining joint strengths in engineering, sales, new product development and manufacturing with NFI's expertise in operational excellence, insourcing, fabrication and systems management."
NFI Board Chairman, the Honourable Brian Tobin, P.C. O.C. added: "ADL is a company we know very well, and this acquisition presents a compelling opportunity to make NFI a more diversified and robust business while creating immediate value for our shareholders. NFI's management team has a track record of delivering accretive acquisitions and prudent capital management which we expect to continue through the addition of ADL."
You can read more news stories here: cbwmagazine.com/category/news