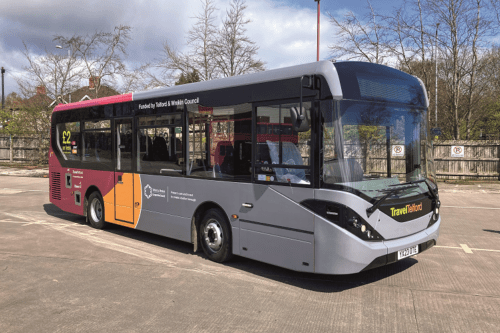 The Enviro200 has become the 'go-to' type to fulfil the Midlands-based operator's needs
Alexander Dennis has taken a further order for four Enviro200 single deck buses from Midlands operator Centrebus, following two separate deliveries of four buses each over the past year. Privately-owned Centrebus is a major provider of bus services across the Midlands and neighbouring counties through its direct operation and the associated High Peak Buses, D&G Bus and Chaserider fleets.
Centrebus recently placed a repeat order for four Enviro200 buses to be delivered at the end of this year. Three will be 10.8m long with 40 Alexander Dennis SmartSeats, while the fourth will be a shorter 9.7m vehicle with 34 seats. All will be certified as Low Emission Buses with the manufacturer's SmartPack efficiency technology.
Centrebus Operations Manager Dan Flanagan said: "This latest order for new buses continues the investment in our modern fleet and we look forward to placing our four newest Enviro200 in service. They will be a great fit for us as they join similar vehicles of the same type, are easy to maintain, cost-effective to operate and popular with drivers and our customers. This gives us a great basis to provide our commercial and contracted services for our customers and partners."
The new order follows the delivery in late 2022 of four 11.8m, 43-seat Enviro200 for High Peak Buses' Skyline 199 route between Buxton and Manchester Airport. This spring, three 10.8m examples joined Centrebus for Connect Herts services provided as part of Hertfordshire County Council's Bus Service Improvement Plan. At the same time, an 8.9m 30-seater joined similar earlier vehicles at Chaserider for the Travel Telford network in partnership with Telford & Wrekin Council.
Alexander Dennis Regional Sales Manager Lee Salt said: "We're delighted that our Enviro200 continues to play an important role in the Centrebus fleet. These orders really show the versatility of the range, with four lengths available to suit different operating requirements. This flexibility continues long through the buses' service lives, for example through the ability to fit seatbelts without vehicle modifications and of course our AD24 whole-vehicle aftermarket support."