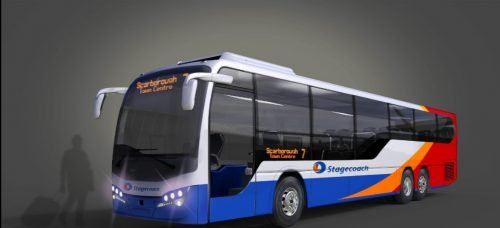 At a time when there is no shortage of headwinds for the industry, the UK's largest bus and coach manufacturer, Alexander Dennis Ltd, continues to invest – new coach models are in the pipeline and international business continues to grow. Gareth Evans reports
Scarborough seemed appropriate to be the location of ADL's now twice-yearly media briefing last week – for the Yorkshire coast resort's coach and bus 'big name' Plaxton is 110 years old in 2017. This year also marks 10 years since ADL acquired Plaxton.
"In those 10 years, which also coincide with my time in the bus industry and at Alexander Dennis, I believe you'll find a very vibrant business," enthused ADL CEO Colin Robertson.
"Plaxton has a rich history as a coach builder, but it's always had bus tendencies too. Approximately 20 buses a week are produced here. We've also doubled the workforce to 660 here compared to when we acquired it. Therefore, rather than 'the Scots buying it and closing it down' as some predicted, I think we've proved to be a responsible business partner."
Performance
"In 2016, we exceeded £600m of sales – a number I'm proud of, the second year in a row we've done that," Colin said. "We had a superb UK performance of £360m vehicle sales on the back of DDA compliance, particularly on double-deck."
In terms of volume, in 2016 ADL produced 2,465 units and in 2017 it will manufacture […]
What you get with a subscription
Operator & Supplier Profiles
Face-to-Face Interviews
Lastest News
Test Drives and Reviews
Legal Updates
Route Focus
Industry Insider Opinions
Passenger Perspective
Vehicle Launches
and much more!