The results from the latest Transport Focus bus passenger survey has been released, with satisfaction close to 90% across England and Wales, and 91% in Scotland
Almost 50,000 passengers took part in the autumn 2018 Bus Passenger Survey, which covered 49 areas and operations in England and nine in Scotland.
The results from the independent watchdog which were released on Thursday 14 March assessed passenger satisfaction on a range of aspects including value for money waiting for the bus, and on the bus.
David Sidebottom, director at Transport Focus, said: "Nearly half of passengers surveyed in England say the bus is the only real means of transport available to them, so it's vital that their service is on time, reliable and offers good value for money.
"Bus companies like trentbarton show what can be done when bus operators and transport authorities use the Bus Passenger Survey results to identify improvements for their passengers.
"It is good to see improvement in overall satisfaction ratings for younger bus passengers.
This builds on recent campaigning by Transport Focus to make bus a better deal for young passengers.
"There are also huge variations in satisfaction with value for money ratings across England and Scotland, so there is still room for improvement.
More operators and authorities must work together to attract new passengers and ensure bus continues to provide an essential lifeline to communities."
Reactions
CPT's Interim Chief Executive, Peter Gomersall, said: "For many people, the bus continues to be a lifeline and the only viable means of accessing work, education, the high street (shops) and social activities.
"It is therefore vitally important that bus services meet passengers' needs by being punctual, reliable, clean, affordable and comfortable.
"And the latest Bus Passenger Survey results clearly demonstrate that the vast majority of bus operators are doing just that; delivering high quality, reliable services to passengers on a daily basis.
"The satisfaction levels achieved, figures that many industries can only aspire to, are even more impressive given the increasingly challenging operating conditions in which buses operate.
"Each year this Survey proves the resilience of the bus industry and demonstrates that operators continue to deliver for passengers. CPT looks forward to working closely with its operator members, central and local Government, and other key stakeholders to further promote the benefits of bus travel."
Stagecoach Managing Director for Stagecoach UK Bus in England and Wales, Mark Threapleton, said: "These independent results show we are continuing to deliver a consistently high quality service for our customers and are a fantastic endorsement of the hard work of our employees across the UK every day.
"We are working hard, in partnership with other operators and local authority partners to provide easier, more affordable and better joined up journeys but we know there is more work required to deliver even better services for our customers.
Reading Buses Chief Executive Officer Robert Williams said: "Just like every year we listen to what our customers say and use the results to help us make changes to make their journeys even better. We always seek to work alongside local authorities and utilities to plan for known roadworks. We go the extra mile for customers by re-deploying resources when emergency roadworks or abnormal congestion occurs.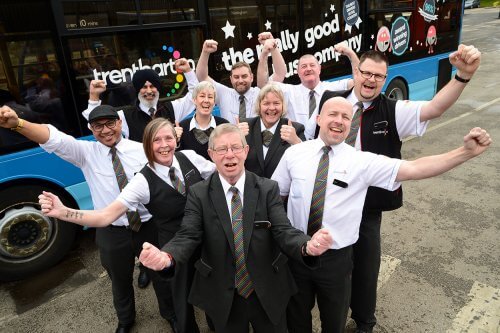 We keep customers up-to-date through social media and our app helps customers know where their bus is with live tracking."
Go Ahead: Katy Taylor, Go-Ahead Group's Commercial and Customer Director said: "This is true praise from our customers who scored us highly on punctuality and journey time. Our goal is to offer reliable, good value bus services which serve the needs of communities.
"60% of public transport journeys are by bus and it's a mode of transport that doesn't always get the attention it deserves. For customers to give us a record score at a time when bus services generally are under threat from growing congestion in our cities is a testament to the dedication of our staff."
Stagecoach Managing Director for Stagecoach in Scotland, Robert Andrew, said: "These independent results show we are continuing to deliver an improving service for our customers and are a fantastic endorsement of the hard work of our employees across the UK every day to deliver high-quality, reliable bus services.
"To match the industry's efforts, we need tougher action from Scottish Government, Transport Scotland and local authorities to address the impact of car congestion which is damaging local air quality, slowing bus journey speeds, holding back our economy, pushing up the cost of transport for local people, and undermining the value of the bus.
Tackling this huge issue will open the doors for cleaner towns and cities and allow bus travel to flourish. For example, we see great potential to make better use of the Glasgow urban motorway network to give priorities and faster journey times for the many bus and coach passengers who access the city every day."
Trent Barton Managing Director Jeff Counsell said: "Our whole company is incredibly proud of these amazing ratings from the people who matter most – our customers.
"For the people of Derbyshire and Nottinghamshire to have the very best or one of the very best bus services in the UK – and for trentbarton's drivers to be the leading lights in achieving that – is awesome.
"We all work incredibly hard to provide an outstanding service and to make the customer experience so good. It's tremendously encouraging when our customers tell an independent body such as Transport Focus that we lead the way."
Local Authorities Areas
Overall satisfaction with the bus journey: TOP: East Sussex received the highest satisfaction rating with 62% BOTTOM: Swindon 34%.
Satisfaction with value for money: TOP: Cheshire West and Chester 38%, County Durham 38%, Mersey 38%: BOTTOM East Sussex 13%
Satisfaction with punctuality of the bus: TOP: York 49%, Tyne and Wear 49% Oxfordshire, 49% BOTTOM: Swindon 22%
Satisfaction with on bus journey time: TOP: Cheshire West and Chester 62%, Tyne and Wear 60% Bournemouth and Poole, Northumberland, County Durham, with 58%. BOTTOM: Swindon 38%, West of England 40%, West Midlands 40%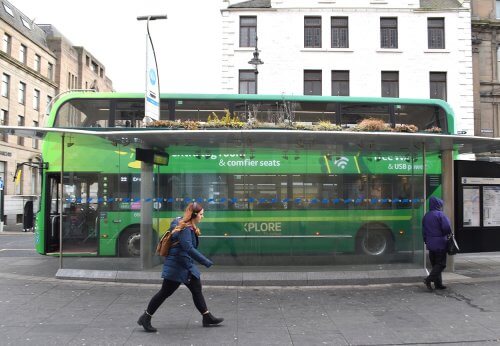 Operators
Overall satisfaction: TOP: Salisbury Red 66%: BOTTOM: Diamond bus in Worcestershire 26%
Value for money: TOP: Nottingham City Transport 46%: BOTTOM: Diamond bus in Worcestershire 9%
Punctuality: TOP: Konnectbus 60% BOTTOM: Diamond Bus in Worcestershire 23%
Bus journey time: TOP: Salisbury red 68% BOTTOM: Stagecoach in Nottinghamshire 33%
National Operators
Overall satisfaction: Arriva: 87% (the same), First 83% (down 1%), Go-Ahead 92% (up 1%), National Express 84% (down 1%) Stagecoach 90% (the same)
Satisfaction with value for money: Arriva: 65%, First 57%, Go-Ahead 64%, National Express 66%, Stagecoach 65%
Punctuality: Arriva 72%, First 66%, Go-Ahead 80%, National Express 70%, Stagecoach 75%
On Bus journey time: Arriva 85%, First 80%, Go-Ahead 88%, National Express 82%, Stagecoach 86%
Read the full survey here: www.transportfocus.org.uk/research-publications/publications/bus-passenger-survey-autumn-2018-report
Read more bus news here: cbwmagazine.com/category/news/buses