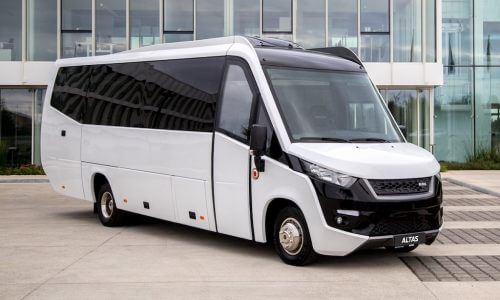 The first Lithuanian commercial midi bus, the Altas Viator, was launched at the IAA show in left-hand drive last month. Built on the Iveco Turbo Daily 70C18 chassis and powered by the 3-litre engine with a Hi-Matic gearbox the Viator can carry up to 30 passengers.
Altas confirmed at the IAA that the aerodynamic design will be heading for the UK market, with a right-hand drive model planned for development shortly and within the UK market within two years.
The Altas Viator is a European medium-sized tourist class bus with a length of 8.44m, a total weight of 7.2 tonnes, and a luggage capacity of 4.5 cubic metres.
The engineering solutions and design were developed in Lithuania, and the parts and components were chosen from the global automotive industry. The bus frame is made of Finnish stainless steel, while modern composite materials that are light and feature good heat and noise insulation are used for the exterior and interior decoration.
Commenting on the Viator, Edvardas Radzevičius, General Manager of Altas Commercial Transport said: "For more than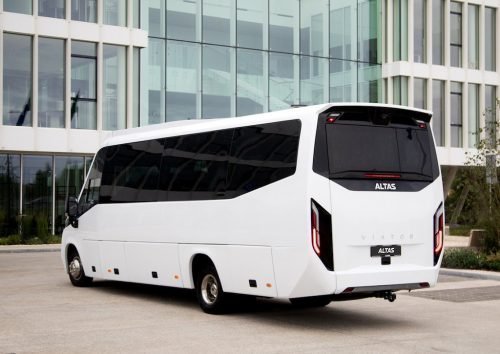 15 years, we have been working within the European markets and we have seen that more midi-sized buses are in demand, besides the minibuses we already manufacture. Our customers in different countries have asked for such a product, and with this midibus we will fill a gap in the existing range of small and medium buses.
"After listening to the responses from the first commercial midibus from the Altas brand, we are convinced that this will be a product that is highly sought after across Europe. We are, and will remain partners with the major European automobile manufacturers, but we also plan to continue creating unique, Lithuanian products."
"When Lithuania decided to begin manufacturing components for vehicles, the foreign experts were sceptical. Today, even the largest automotive component manufacturers are establishing facilities in the country, and the Lithuanian companies have begun developing not only electric motors and future technologies for self-propelled vehicles, but also fully-equipped passenger buses.
"The potential of the specialists in the country is much higher than the international industry experts expected. These market-leading products created by Lithuanian brands will undoubtedly boost the reputation and confidence in the country's automotive industry," said the Lithuanian Minister of Economy, Virginijus Sinkevičius.