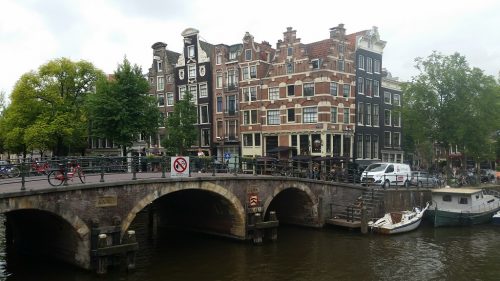 Transition begins March 19, 2018 and ends December 31, 2019, from which point coaches will be expected to use new facilities outside of the centre unless they are granted an exemption
Coaches are set to be phased-out from the centre of Amsterdam from March 19, 2018.
Coaches will be expected to drop off passengers at dedicated points unless they have a specific destination in the city centre. After 2019, no coaches will be allowed in the city centre without specific exemptions.
Alderman Litjens from the Municipality of Amsterdam recently informed the coach tourism sector by letter about the measures and phasing of the transition plan.
The letter reads: "I will be submitting the Transition Plan for Coaches to the Executive for its approval at the beginning of December. Approval will mean that coaches will gradually be prohibited from entering the city centre.
"The plan will be implemented in phases between March 19, 2018 and December 31, 2019, in conjunction with the opening of alternative drop-off and pick-up facilities for coaches just outside the centre such as De Ruijterkade-west and De Ruijterkade-oost and the Coach – Canal Trip Transfer Point [Transferpunt Touringcar – Rondvaart].
"From March 19, 2018 – the start of the 2018 tourist season – coaches used for transporting tourists without a specific destination to the city centre (for sightseeing or walking/shopping tours) will be required to drop off and pick up these tourists at one of the designated locations. Non-stop sightseeing tours by bus will no longer be allowed to go through the city centre either (phase 1).
"The same will apply from 2019 to passengers with specific destinations in the city centre. The North-South Metro Line will start to operate in July 2018, which will be the moment to expand the number of routes that are closed to coaches (phase 2), and will include placing road blocks on Prins Hendrikkade and Paleisstraat (at Dam Square). The drop-off and pick-up facilities for coaches on east and west De Ruijterkade will then be available.
"Destinations in the area where coaches are prohibited and which are dependent on coaches may apply for exemption. During the transition phase 2018-2019, the number of exemptions for each destination will be reduced. After that period, exemptions will only be granted for transporting specific groups of people, such as primary school children and the disabled. An agreement has been reached with the canal trip sector that the exemption will apply to Prins Hendrikkade, Amstel and Rokin until the new Coach – Canal Trip Transfer Point on the Southern IJ shore [Zuidelijke IJoever] is fully operational."