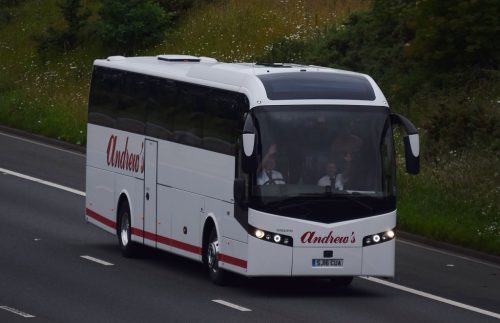 Andrew's (Shetland) ceased trading with immediate effect on Tuesday, August 22.
With the firm ceasing trading a number of services in the Highlands have been affected, with two Highland Council services suspended for a number of days. School services in Caithness and Sutherland have also been hit, with around 400 students affected, however Stagecoach stepped in as cover to avert a crisis.
The operator, which had a fleet of 40 vehicles including Jonckheere-bodied Volvos and Neoplan Tourliners, expanded their operations to the Scottish Highlands in 2016 when they took over Macleod's Coaches in Rogart, Highlands.
Highland Council has also warned there may still be gaps on public service routes.
In a statement issued by the Council, Director of Community Services, William Gilfillan, said: "Our Transport Team are organising mini procurement competitions in the next few days to procure permanent replacement contracts. We will be issuing mini contracts once we have reviewed the specifications. We will continue with the cover we have arranged until then."
Director of Care and Learning, Bill Alexander, added: "This is wonderful work by our Transport colleagues and partners who swiftly managed to get replacement services up and running for this morning [Wednesday August 23]."
Andrew's (Shetland) also had contracts for other regular services, such Brora Rangers Football Club, as well as cruise liner support and services to the oil industry.
Sole Director, Morris Morrison, told Shetland News: "Andrew's (Shetland) Ltd traded on the Scottish mainland and in Orkney and had no current operation in Shetland and as such no customers in Shetland will be affected."
Shetland Council confirmed that no services had been affected, with separate company AGS Morrison providing transport. transport.