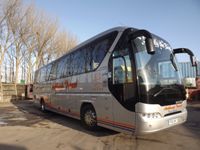 UK Coach Operator of the Year 2011 Anthony's Travel of Runcorn has decided to name the latest addition to its immaculate coach fleet "The Spirit of Sir Freddie Laker", after the pioneer of low-cost travel.
The Neoplan Tourliner was provided by Manchester-based MAN Bus and Coach, in association with Landmark Finance, and is fitted with the latest EEV Euro 5 engine, 49 reclining seats, Synectics CCTV and Genius system, Orbital tracking system and air conditioning.
Amenities include a DVD player, drinks machine, fridge, microwave and smart vac system.
Richard Bamber, partner of Anthony's Travel, explained the reason behind the new coach's name: "In 1977, when I was six, it was an ambition of my parents to visit the United States. However, due to costly flights this was not possible, until Laker Airways launched the Skytrain service in the same year, offering fares across the Atlantic at around half of the price of the other carriers.
"Therefore we were able to turn dreams into reality and visited California for a month along with my parents, brother, cousin and grandmother.
"None of this would have been possible for us if it wasn't for Freddie Laker, who not only revolutionised the airline industry but transport in general, and we like to think this has been of benefit to Anthony's Travel."
Freddie Allen Laker, Sir Freddie's son, commented: "This is an unexpected and fun tribute to my father's legacy. My family and I are thrilled that Anthony's Travel are passionate about the same ideals that my father believed in."
The exterior of the coach is silver with the Anthony's Travel livery and "The Spirit of Sir Freddie Laker" in the style of the Laker Skytrain logo.
Anthony's Travel was one of the UK launch customers for the Tourliner in 2007 and this arrival takes the number of Neoplans in fleet to six.
For more information visit www.anthonys-travel.co.uk