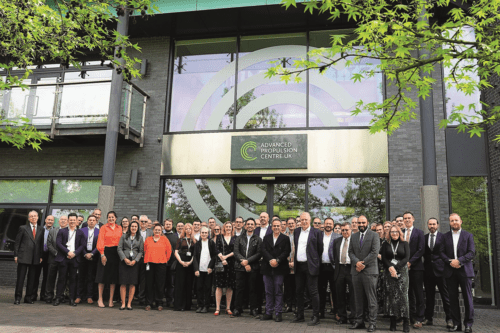 The Advanced Propulsion Centre (APC) is investing £77 million in seven UK-based automotive collaborative research and development projects. The seven projects, each involving a group of companies working in partnership on green transport technology, will each benefit from industry support, together with a government grant.
The £77 million of funding is made up of £38.4 million from the Government, backed by a further £38.7 million from the automotive industry, which the APC says represents a significant commitment to the decarbonisation of transport, and an investment into achieving net-zero in the sector's supply chain.
Much of the focus is on how to effectively decarbonise commercial and working vehicles including vans, buses, HGVs, and zero-emission emergency vehicles. The funding will enable a range of solutions to be developed, including hydrogen fuel cells, hydrogen combustion and battery electric versions.
The package of support is the 22nd funding round from the APC, and includes projects with Ford to design, develop, and build a fleet of eight hydrogen fuel cell-powered Transit vans, ULEMCo to create a zero-emission hydrogen fuel cell range extender for prototype ambulance, fire engine and road sweepers, Bramble Energy to develop a hydrogen double-deck bus using low-cost fuel cell technology, and Wrightbus to develop new zero-emission battery and hydrogen fuel-cell electric, multi-axle vehicles.
Ian Constance, Chief Executive at the APC, said: "Investment into these seven collaborative projects continues the work that the UK does very well. Research and development, building the automotive supply chain, pushing the boundaries of clean technology for the road, whilst securing jobs across the country. I am pleased to have both well-known brand names among this £77 million funding round through the APC, as well as innovative SMEs bringing through exciting new developments."
In total, the projects are expected to support more than 4,440 jobs across the UK over the next decade and save 58.2 million tonnes of CO2 from being emitted.
Minister for Business and Trade Nusrat Ghani commented: "Zero-emission vehicles are increasingly commonplace, from cars on people's driveways to taxis taking us around town. But this cutting-edge work is going to mean clean, green vehicles designed and built in the UK can increasingly take on the toughest jobs too, from haulage to public transport. Our automotive industry keeps setting the pace globally when it comes to seizing the potential of new technologies. Today's multi-million-pound boost will help them stay ahead of the international competition, while continuing to support high-quality jobs and economic growth. The collaborative nature of the projects, and one of the key strengths of APC support, means that a number of firms, including smaller sized enterprises, across the UK will be developing their capability."
According to the APC, "whilst demand is growing for zero-emission vehicles, there are currently few options available for heavy, multi-axle vehicles like large buses." Consequently, the Wrightbus project will receive £6.4 million, matched by industry to a total £12.7 million. It will produce what APC says will be a 'new, market-leading platform' for battery and fuel cell electric buses.