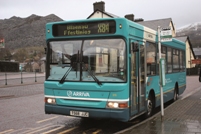 Arriva UK has decided to include the Groeneveld Oilmaster product within the standard Arriva UK chassis specification for all UK operating buses.
The decision follows the end of a trial period carried out by Groeneveld UK and Arriva PLC which began in early 2010 and ended near the start of this year. It was carried out through Kevin O'Leary, engineering director mainland Europe, and John Greaves, engineering director North East, using five vehicles from Arriva's fleet based in north east England.
The trials aimed to assess the impact of introducing a more effective system for engine oil level monitoring and replenishment. The vehicles were monitored on both oil levels within the engine and oil used to 'top up' the vehicles to retain optimum oil level when compared to the rest of the fleet.
The system aimed to highlight the savings made when the optimum oil level was maintained instead of the maximum level on the dipstick during operations, avoiding unnecessary top ups.
Ian Tarran, engineering director for Arriva UK Bus, said: "Having seen our system in operation for ourselves we are now confident that it works very well within our organisation.
"Keeping our engines topped up to the optimum level will save us oil and time, helping reduce waste through overfilling. This should reduce the impact we have on the environment."