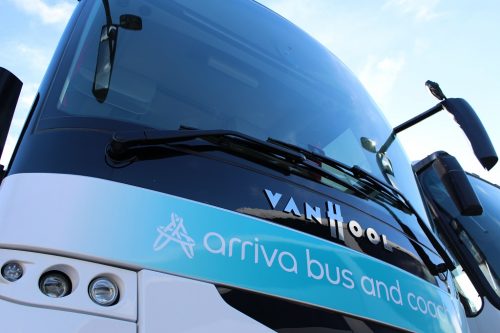 New distributorship deal is effective from 1 February 2019 and covers the full Van Hool coach range
Van Hool has concluded an exclusive distributorship with Arriva Bus and Coach for the UK market.
Effective from 1 February 2019 onwards, Arriva Bus and Coach, based in Cleckheaton near Leeds, will assume exclusive responsibility for marketing and sales for the entire range of Van Hool coaches, including all EX and TX models.
Van Hool's other distributors, Moseley PCV in Pontefract, Moseley Distributors in Airdrie (Glasgow) and Moseley in the South, based in Taunton, will continue marketing and sales of Van Hool coaches until February 1, 2019.
Arriva Bus and Coach has stocked Van Hool coaches for the UK market for more than 30 years. The company said it has reached the new exclusivity agreement through a 'shared vision for providing operators with coaches of the very highest quality and refinement, along with an enhanced and modernised aftersales service.'
Erik Olijslagers, Van Hool Head of Sales Bus and Coach Private Market, said: "Van Hool has chosen to enter the exclusivity agreement with Arriva Bus and Coach because we share its vision for the future. Exclusivity will mean our customers receive the absolute best in every aspect of buying and operating a Van Hool coach. So not only is this an important moment for Van Hool and Arriva Bus and Coach, it is also fantastic news for operators of Van Hool coaches.
"We are in close contact with Moseley and will ensure the transition process to an exclusive distributorship is as smooth as possible for our customers."
Andrew Cullen, Managing Director of Arriva Bus and Coach, said: "It is an extremely proud moment for Arriva Bus and Coach to become the exclusive partner for Van Hool in the UK. Not only is it testament to the success we have enjoyed over the past three decades, it also means we can now forge ahead with a number of exciting developments."
Steve Fletcher, Head of Product at Arriva Bus and Coach, added: "Being chosen by the prestige coach builder Van Hool as its sole UK distributor endorses the hard work, commitment and vision shown by everyone at Arriva Bus and Coach."
Van Hool is an independent Belgian coach, bus and industrial vehicle manufacturer, which was founded in 1947. Based in Koningshooikt, the majority of its production is destined for Europe and America. Van Hool employs around 4,750 staff worldwide, the majority of whom work at its production facilities in Koningshooikt and Skopje (Macedonia).