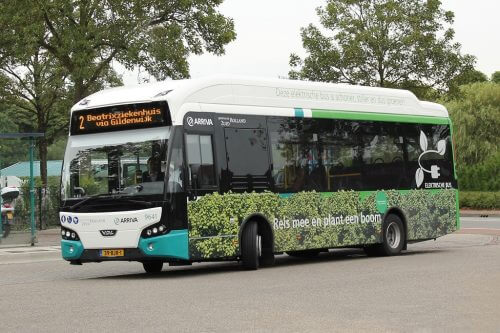 Deutsche Bahn subsidiary in Holland goes to domestic manufacturer for pair of electric citybuses
HOLLAND VDL Bus & Coach has supplied two Citea LLE-99 Electrics to Arriva Netherlands. The 9.9m buses are deployed on routes 1, 2, 3 and 4 in Gorinchem which in parts traverse the old town. The compact size and low weight of the vehicles make for low energy consumption helping them to meet the requirement for zero emission transport in a more regional environment.
With a range of 125-150km, the 180kWh onboard battery pack provides sufficient flexibility. Because the buses are deployed during the morning and evening rush hours, they can be slow-charged in the off-peak and evening hours by means of a plug-in installation at the depot.
The purchase of the two Citeas LLE-99 Electrics follows on from the previous order of 12 units for Venlo. It demonstrates Arriva's confidence in the concept of a compact electric bus that can provide zero emission public transport in a flexible manner, says the manufacturer.
Arriva Netherlands is part of the Arriva Group, owned by Deutsche Bahn, which operates in 14 European countries. In Holland Arriva employs over 6,000 staff in the provinces of Drenthe, Flevoland, Friesland, Gelderland, Groningen, Limburg, North Brabant, Overijssel and South Holland.
In addition to train and bus service, it operates the waterbus in South Holland in partnership with Koninklijke Doeksen and is active in the Dutch touring coach sector under the name of Arriva Touring.