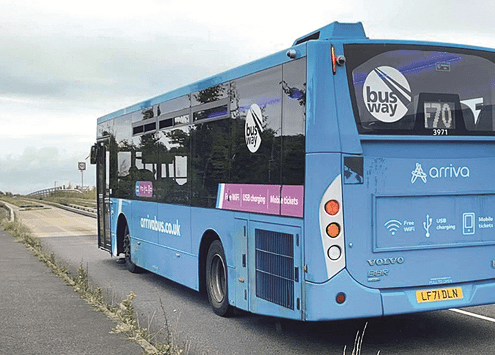 Arriva has been running buses on the guided busway in Luton for 10 years, carrying more than 20 million passengers on the Luton to Dunstable busway since it opened in 2013. Since introduction, Arriva says the busway has cut the journey time between Dunstable, Luton and Luton Airport in half as the buses can travel at faster speeds on a route that is separate from other traffic.
The Busway runs between Luton Airport and Houghton Regis via Dunstable following the alignment of the former Dunstable railway line, which closed in 1989. It runs parallel to the A505 and A5065 for just over six miles and also has a bus link to Milton Keynes.
The scheme, one of only a handful of busways in the country, opened at the end of September 2013. Arriva runs between 350 and 500 journeys per day on the route, adding up to around 5,000 people per day.
General Manager of Arriva's Luton depot Jon Evans said: "As a former bus driver, I was really excited to drive on the busway, it is so different to anything else we do. Having to let go of the steering while the bus steers itself is such a counter-intuitive experience, it is daunting at first but you soon get used to it.
"The busway is a great way to get around and whizz past all the traffic on the roads as it takes 12 minutes to get from Dunstable to Luton, which of course has a great link with London Luton Airport. It's a really successful route and takes two million passengers per year and we're really proud to run our journeys on it."