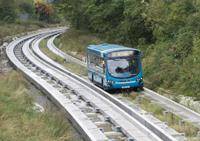 Arriva is putting into service 11 brand-new buses on its route 38, which runs between Houghton Regis, Dunstable, L&D Hospital and Luton.
The new vehicles represent an investment of £1.7m and bring the number of new buses purchased for services in the area to 26 in the last 12 months, a total investment of over £4.5m.
The new buses are Wrightbus Eclipse 2-bodied Volvo B7RLEs. They have 7.3-litre engines and weigh over 10 tonnes when empty. Each vehicle has 46 seats.
The buses will operate along the Luton-Dunstable busway when it opens in 2013 and are fully prepared for the fitment of the guide wheels and with different suspension to offer a smooth ride.
Providing links to between Luton, Dunstable and Houghton Regis as well as schools, colleges and the hospital, the 38 is popular with people travelling to work, school and college.
Arriva the Shires & Essex Managing Director Paul Adcock said: "Our massive investment in the last 12 months demonstrates a strong commitment to providing everyone in the local area with a quality network of buses, routes and timetables."
Cllr Nigel Young of Central Bedfordshire Council said: "We are really thrilled to be working with Arriva to bring the Busway to life and these new, top-quality buses are a fantastic part of what will be a top-quality service. Linking up Luton, Dunstable and Houghton Regis is already bringing significant economic benefits to the area. I'm sure Route 38 will prove to be very popular and using the busway will open up the jobs market to the conurbation."
Cllr Dave Taylor of Luton Borough Council said: "These modern low-floor buses are efficient, comfortable, wellpresented internally and are equipped with Smart Card technology ticket machines.
"We are building the Busway to dramatically improve journey times across the conurbation. This investment by Arriva forms a vital part of the work going on with partners to substantially improve passenger experience and benefit the environment."