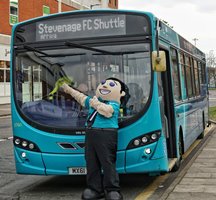 Arriva has joined forces with Stevenage Football Club to help give football fans better access to all matches held at Broadhall Way.
For the remainder of the 2015/16 season, followers of the League Two club can board a new Stevenage FC Shuttle match-day bus service to get to and from home games for a £1 return fare.
The service departs from both the town's bus and railway stations every 25 minutes.
Allan Southgate from Arriva Southern Counties said: "With tickets costing only £1 for a day return, this service will not only ensure fans make it to the ground in plenty of time for kick off, but it will also make sure they have a little extra money left in their pockets so that they can celebrate a home win in style."