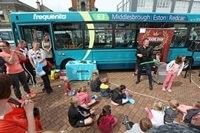 Refurbished Wrightbus single-deckers coincide with opening of new travel shop
Arriva North East has launched its new high frequency Frequenta-branded 63 service in Redcar.
The service includes an alternative livery design on its 2010 VDL SB200 Wright Pulsars, which was designed in 2015 in conjuction with Best Impressions and applied by Radecal. The vehicles have all been refurbished and are currently having next-stop announcements fitted.
The 63 is an existing route which operates between Middlesbrough and Redcar, via Eston and Lakes Estate. It now provides an enhanced cross-town link and connects to the Arriva's MAX and Sapphire services in the area.
The launch event for the vehicles also celebrated the opening of a brand new Redcar Travel Shop. It congratulated VIP guest Alex Carmichael, who has accumulated 50 years' service with Arriva and arrived on a vintage bus.
The public were invited to the celebratory launch to experience live magic, brand new bus tours and a free brunch.
An Arriva spokesman said: "Here at Arriva North East we are delighted to have launched further improvements in Redcar including our brand new Frequenta 63 service and travel shop.
"We are confident that these improvements will ensure that more people will see the benefits of bus travel and jump on board.
"It was great to also celebrate Alex's 50 years' service. It is great to give back to the employees and communities that act as the building blocks to Arriva's success, which is why we are constantly working towards improving the journey experience for our customers."