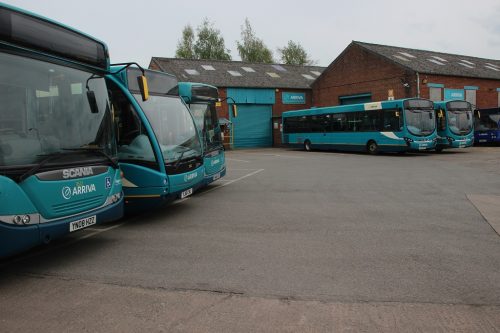 Gareth Evans talks to Arriva Midlands West Area Managing Director Rob Cheveaux, who candidly shares his experiences of dealing with austerity, the latest on driver recruitment and an update on the garages across his area, which stretch from Tamworth to Oswestry
Rob Cheveaux enjoys a laugh – as he does coffee and biscuits. He certainly knows how to make his visitors feel welcome.
I met him in his first floor office, which occupies a pleasant corner of the two-storey administration block at Cannock garage. Since I last saw Rob at Telford garage in June 2015, he's had to implement some tough decisions in order to secure the future of the business. As we talked, he was refreshingly candid about dealing with the climate of austerity.
In 2015, the Arriva Midlands and Arriva the Shires businesses merged – the operation is now known as Arriva Midlands.
Asked, how this business – which was once known as Arriva Midlands and Midland Red North before that – works in relation to the merged Arriva Shires and Midlands operation, Rob replied: "The Midlands as a whole stretches from Oswestry in North Shropshire to Aylesbury in Buckinghamshire in the South.
Following a recent business decision, the Midlands was split into two regions – North and South. The North covers Shropshire, Staffordshire and Derbyshire. The South, which is headed by Maq Alibhai, covers Leicestershire, Luton, Milton Keynes, Aylesbury and High Wycombe.
"The South has Leicester, a pretty big city, and Luton, which is expanding. The North has Derby, also a pretty big city, whilst the Shropshire and Staffordshire areas are more semi-rural but it does though, have some good, strong routes. From where it was to where it is now in 2017 is certainly moving forward. It is about partnership working – relationships with local and transport authorities are vital."
Future-proofing Arriva Midlands

Engaging with stakeholders, which included the Unite trade union, a root and branch review of the firm's operation was carried out[…]
What you get with a subscription
Operator & Supplier Profiles
Face-to-Face Interviews
Lastest News
Test Drives and Reviews
Legal Updates
Route Focus
Industry Insider Opinions
Passenger Perspective
Vehicle Launches
and much more!