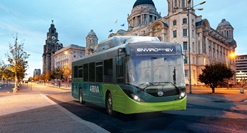 With support of OLEV funding, operator orders electric and gas buses, alongside over 50 hybrids
Arriva North West has made an order for 72 vehicles in Liverpool with the help of the Office for Low Emission Vehicles (OLEV).
Arriva made a joint bid for the funding with Merseytravel.
The order comprises of 12 full-electric single-deck BYD/ADL Enviro200 EVs – the first order for such vehicles outside London – along with nine biogas-powered Euro 6 Caetano-bodied MAN buses and 51 Wright-bodied Volvo double-decker hybrids. The order represents an investment of £16.3m, plus £4.9m support from OLEV.
The gas buses will be identical to the vehicles operated by Arriva in Runcorn, aside from the fact they will be Euro 6 instead of Euro 5.
The 12 of the BYD ADL Enviro200 EV model buses will go into service on the city centre circular routes 26 and 27, known as The Belt, which operates from the Liverpool One bus station.
The electric buses are expected to be delivered by mid-2017 and will be based at Arriva's Green Lane bus depot in Liverpool. Eight BYD chargers will be installed in the depot and the garage.
The buses are expected to cover 150 to 190 miles per day and will be charged overnight. In line with all BYD ADL joint products, the new buses in Merseyside are designed to operate a full day's duty cycle on one charge, without the need top up charging during the working day and making use of cheaper off-peak electricity.
The vehicles will feature a provincial specification with 38 seats – a mix of Esteban Civic V3 and ADL designed units. There is space for another 32 standing passengers and there are USB charging points throughout each bus.
Arthur Whiteside, Managing Director of UK Sales at ADL, said: "This is a significant breakthrough for us and our partner BYD.
"It's the first joint order from outside London and opens the door to a range of provincial cities wishing to upgrade their bus fleets to pure electric, emissions free standard.
"The Enviro200EV provides a stylish, cost effective and proven bus to meet their needs."
Frank Thorpe, BYD's UK Country Manager, commented: "We are delighted to be part of this significant order along with our partners ADL.
"Merseyside is pointing the way for other British cities wishing to tackle their air quality issues through pollution free city centre buses. We look forward to more such orders."