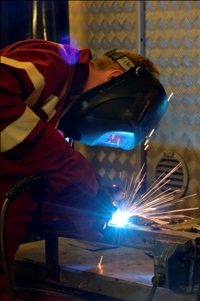 Operator takes home seven awards including Outstanding Achievement
Professionals from the bus and coach industry gathered at the Heritage Motor Centre in Gaydon to name the winners of the IRTE Skills Challenge at a winners' ceremony on July 25.
The competition is organised by the IRTE, a professional sector of the Society of Operations Engineers (SOE), and is aimed at technicians who maintain and repair the country's buses and coaches.
The competition took place over three days at S&B Automotive Academy in Bristol, with a series of mechanical, electrical and bodywork tests designed to focus on areas affecting transport reliability and safety.
Operator Arriva was the big winner this year, taking home seven of the awards, including the IRTE Award for Outstanding Achievement.
IRTE Skills Challenge 2012 Winners:
Top Scoring Mechanical Technician (sponsored by Allison Transmission): Ian Challoner – Wilts & Dorset Bus Company, Salisbury
Top Scoring Electrical Technician (sponsored by Shell): Colin Harris – Arriva (Technician team)
Top Scoring Bodywork Technician (sponsored by Delphi): Charlie Devlin – Arriva (Technician team)
Electrical, Mechanical & Bodywork Combined Award (sponsored by Knorr-Bremse): Wilts & Dorset Bus Company Salisbury – Ian Challoner, Paul Read, Bill Tinsley
Mechanical & Electrical Award (sponsored by Bridgestone): Translink – William Scott & Adam McGrath
IRTE Award for Outstanding Achievement: Arriva (Technician team) – Glenn Cooke, Colin Harris, Charlie Devlin
Top Scoring Mechanical Apprentice: Tom Hubbard – Arriva (Apprentice team)
Top Scoring Electrical Apprentice: Ross Moffatt – Arriva (Apprentice team)
Top Scoring Bodywork Apprentice: Wayne Stanton – Arriva (Apprentice team)
Lloyd Mason, Engineer Trainer with Arriva said: "It's been a good day for Arriva. We prepared for the competition with a series of internal challenges and the competing teams were based on the best performers from this. We're pleased it's paid dividends here today and we'll most definitely be back at the Skills Challenge next year."
Technical Engineer David Carson from Translink was also delighted with his team's win: "This is the second year in a row that Translink has won an award at the Skills Challenge. Bring on 2013!"
Chief executive of VOSA, Alastair Peoples, presented the awards, donated by Halfords Trade, at the ceremony, calling the competition a 'benchmark' against which individuals and companies can measure themselves: "The Skills Challenge both acknowledges and rewards technicians and apprentices who demonstrate excellence in their fields, recognising and raising the profile of the operators who employ them."
"It's really inspiring to be standing here in front of a room of bus industry professionals saying that the future of the bus and coach industry is in good hands."
Other operators competing in the 2012 IRTE Skills Challenge included Ipswich Buses, London Borough of Redbridge, MoD, Bluestar, Go-Ahead and trent barton.