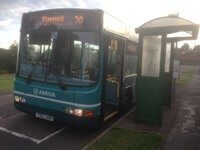 Five services are transferred to other Arriva depots, while the remainder of the business and many of its employees move to the new operator
Arriva has formally passed over the running of its Burton depot to Midland Classic, with the new operator taking over on August 27.
The sale of the majority of Arriva's Burton business to Midland Classic was agreed in April this year.
In total, 30 buses and 80 staff have moved over to Midland Classic, an Arriva spokeswoman told CBW.
Arriva said it wanted to wish the new service provider well, and offer its gratitude to both its former and current employees, many of whom will move over to work with Midland Classic following the transfer.
Simon Mathieson, Arriva's Area Managing Director, said: "We have enjoyed many successful years operating from the Wetmore Road depot and are proud to have played such a pivotal role in the local community.
"Our local team have been exemplary throughout this transition, and while we are sorry that they will no longer be part of the Arriva family moving forwards, we are sure that they will be a credit to Midland Classic, and will continue to maintain the high service standards that we know and appreciate them for.
"Equally, for customers across Burton, we wish them many more happy journeys with their new operator, and our huge thanks for choosing to travel with Arriva during our time here. We hope to still see many of them on board routes X38 or 9/9A/9E/29A, which we will continue to run from our Derby and Coalville garages respectively.
"We have worked hard with our colleagues at Midland Classic to ensure transition is as smooth as possible, and are confident that bus users throughout Burton will continue to benefit from the affordable, quality transport services they deserve."
Arriva announced the proposed sale of its Burton business in April this year, and confirmed that that the deal would include the TUPE of staff over to the new operator.
Customers with existing Arriva Weekly and 4-Weekly tickets will be able to use them on Midland Classic until the end of September.
Midland Classic has made a large number of timetable changes as the new services are accommodated within its network. These can be seen at https://tinyurl.com/hdk6ywz