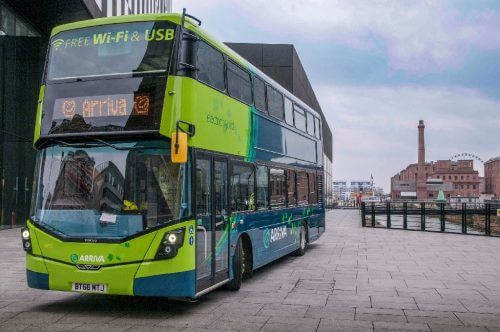 Arriva is receiving vehicles from a major hybrid order from Volvo.
The company ordered 174 Wrightbus Gemini 3-bodied Volvo B5LH double-deckers in October 2016.
From the order, 123 of the vehicles will be incorporated into the company's London fleet and are being delivered throughout spring this year, while a further 51 will be used in Merseyside on local routes. CBW understands that the majority of these vehicles have been delivered, and the remaining buses should arrive 'very shortly.'
Phil Cummins, Area Managing Director for Arriva North West, said: "Following delivery, 10% of our fleet in the North West consists of Volvo hybrid vehicles.
"In the past, we have experienced good reliability and build quality from Volvo, as well as substantial fuel savings, which meant we had no hesitation in selecting the company once again for this latest order."
Fleet Sales Manager for Volvo Bus, Dan Barwick, said: "We are confident that Arriva will see the consistent fuel economy benefits these hybrid vehicles will deliver to their business nationwide.
"We are pleased Arriva has chosen Volvo once again for this purchase and look forward to working with them in the future."
To aid in its purchase of the buses, Arriva received a grant from the Government Office for Low Emission Vehicles, a team working across Government to support the early market for ultra-low emission vehicles.
Phil Cummins added: "Upgrading our fleet to include hybrid buses such as these really is a 'win-win' situation, because the Government incentivises us to switch to hybrid vehicles, and once we switch we are then rewarded with the benefits of increased efficiency and lower fuel costs going into the future."