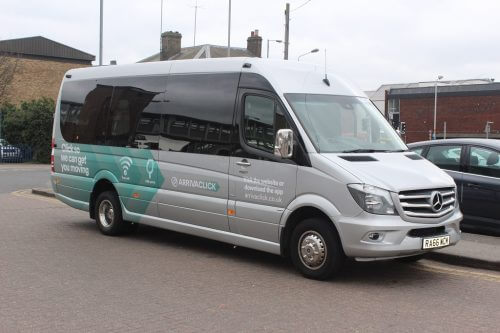 Operator claims its app has been downloaded by the equivalent of 12% of Sittingbourne's population and 52% have changed over to its service from cars
Arriva has completed its first year operating ArrivaClick – a demand-responsive service piloted in and around Kent Science Park and Sittingbourne. It said it is now in discussions to roll the scheme out to a major city in the north of England.
The company stated:
The equivalent of 12% of Sittingbourne's population have downloaded the app;
Six in 10 ArrivaClick customers (61%) use the service a few times a week or more, with 43% adopting the service for their daily commute;
34% of customers used the service for leisure trips, while 31% used ArrivaClick to visit friends and relatives;
52% of customers switched from private motor transport, including taxis (22%) driving their own car (18%) or being a passenger in a car (12%);
Almost nine in ten customers said they would recommend using the service to a friend.
Kevin O'Connor, Managing Director of UK Bus, Arriva, said: "Demand-responsive transport models, like ArrivaClick, present an exciting opportunity to meet the changing needs and requirements of customers and to offer a real alternative to current modes of transport. They have the potential to provide reliable and affordable first and last mile transport options and vital local transport links in underserved areas. With our plans to expand this award-winning service to other locations in the UK, we are excited about its future and the benefits it can bring to other towns and cities.
"Through the successful ArrivaClick pilot in Kent we have also seen some really interesting and important behaviour change, with people ditching private car use to commute to work or visit friends and family in favour of this new customer-led public transport service.
"By integrating this new flexible, on-demand service with bus and train networks we can continue to play our role as passenger transport providers in helping to ease congestion and improve air quality in urban areas."